ANALISIS DAN REKONSTRUKSI DESAIN KEGIATAN LABORATORIUM (DKL) MATERI SPERMATOPHYTA MELALUI PETUNJUK PRAKTIKUM
Wahyu Tri Darmawati

Program Studi Pendidikan Biologi, Sekolah Pascasarjana Universitas Pendidikan Indonesia

Bambang Suprianto

Program Studi Pendidikan Biologi, Sekolah Pascasarjana Universitas Pendidikan Indonesia

Sri Anggraini

Program Studi Pendidikan Biologi, Sekolah Pascasarjana Universitas Pendidikan Indonesia
Abstract
One of the skills needed in the 21st century is scientific literacy. However, the existing DKL as practicum support is not optimal to be able to improve students' scientific literacy. The purpose of this study was to analyze the quality of DKL on Spermatophyta material used to support practicum in schools, using laboratory activity analysis instruments covering aspects of curriculum relevance, competence, and knowledge construction. This research method is descriptive research. The sampling technique was carried out purposively, where the samples of DKL analyzed came from two DKL, namely DKL Biology class X spermatophyta material based on the 2013 Curriculum and the Education Unit Level Curriculum (KTSP). Furthermore, a trial was conducted on one of the DKL. The findings from the analysis and trials became the basis for the reconstruction of Spermatophyta DKL. The results of the research show that the existing DKL still has not developed higher-order thinking skills, and there are still few concepts formed. The results of the reconstruction of DKL through practical instructions to be more effective and representative according to the demands of the applicable KD and develop science process skills.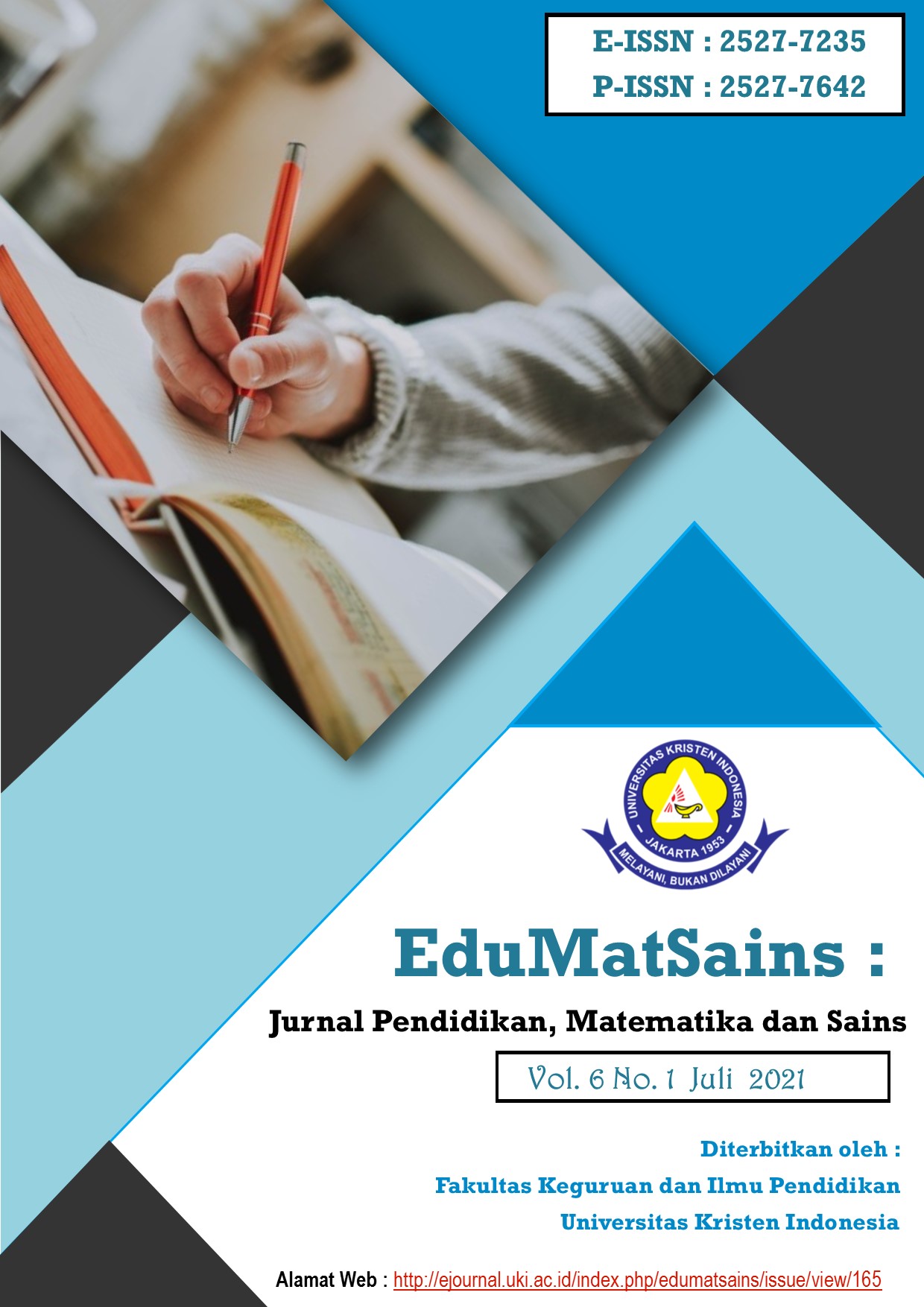 View 250 times Download 250 times PDF
How to Cite
Tri Darmawati, W., Suprianto, B., & Anggraini, S. (2021). ANALISIS DAN REKONSTRUKSI DESAIN KEGIATAN LABORATORIUM (DKL) MATERI SPERMATOPHYTA MELALUI PETUNJUK PRAKTIKUM. EduMatSains : Jurnal Pendidikan, Matematika Dan Sains, 6(1), 163-174. https://doi.org/10.33541/edumatsains.v6i1.3002
Copyright (c) 2021 Wahyu Tri Darmawati, Bambang Suprianto, Sri Anggraini
This work is licensed under a Creative Commons Attribution 4.0 International License.