PERBANDINGAN KUALITAS BAHAN BAKAR DARI PENGOLAHAN SAMPAH PLASTIK MENJADI BAHAN BAKAR MINYAK DENGAN METODE PIROLISIS
Mariaulfa Mustam

Program Studi Kimia, Universitas Teknologi Sulawesi

Nurfika Ramdani

Program Studi Kimia, Universitas Teknologi Sulawesi

Irfan Syaputra

Program Studi Kimia, Universitas Teknologi Sulawesi
Abstract
Given the existence of plastic waste in the environment is very dangerous, therefore it is necessary to conduct research to handle it. The development of technology for plastic processing to produce something useful continues to be carried out by various groups, ranging from scientists, academics, and students. One of them is the utilization of plastic waste into fuel oil (BBM) using the pyrolysis technique which will be installed to process plastic waste. The purpose of this study was to determine the fuel oil from processing plastic waste and compare the fuel with kerosene and diesel oil with the parameters of density, burning time and water temperature when heating using the three fuel oils. The research method used is data collection techniques including pre-treatment, the process to determine the density of each fuel sample, the process of burning time, temperature during heating, analysis of the density of pyrolysis oil, kerosene and diesel fuel by measuring the volume and the mass of each sample. Comparison of the quality of Fuel Burning Time, namely Oil from recycled plastics 4.01 minutes, Diesel Oil 4.45 minutes, and Kerosene 3.02 minutes. Comparison of the quality of water temperature with a volume of 20 ml of water and a heating time of 5 minutes, it is found that recycled plastic oil is 0.77oC, diesel oil is 0.73oC, kerosene is 0.84oC. plastic waste processing is under kerosene but above diesel oil based on density indicators, burning time, water temperature when heating.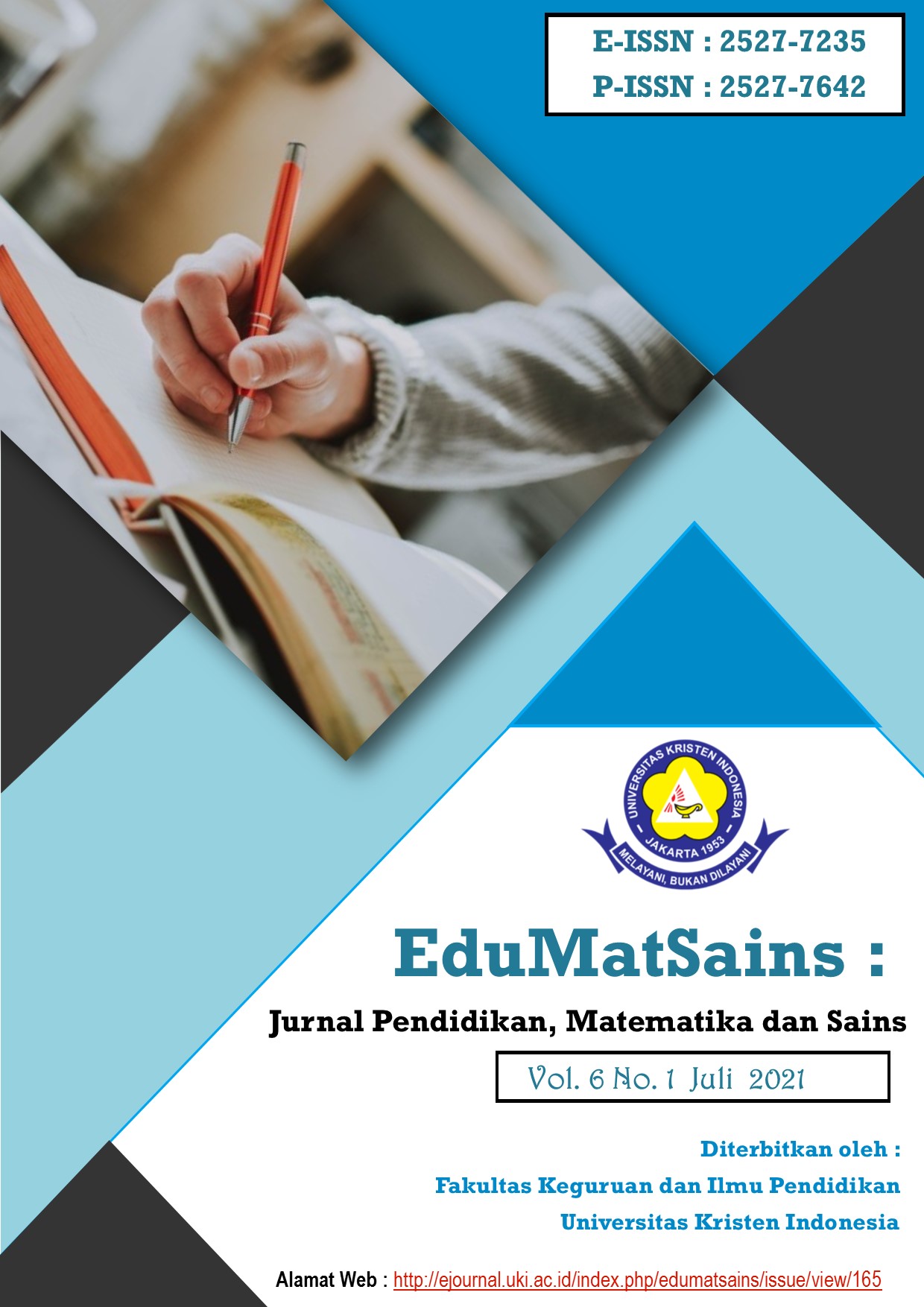 View 644 times Download 644 times PDF
How to Cite
Mustam, M., Ramdani, N., & Syaputra, I. (2021). PERBANDINGAN KUALITAS BAHAN BAKAR DARI PENGOLAHAN SAMPAH PLASTIK MENJADI BAHAN BAKAR MINYAK DENGAN METODE PIROLISIS. EduMatSains : Jurnal Pendidikan, Matematika Dan Sains, 6(1), 219-230. https://doi.org/10.33541/edumatsains.v6i1.2998
Copyright (c) 2021 MARIAULFA MUSTAM
This work is licensed under a Creative Commons Attribution 4.0 International License.