PERAN POLIMER SUPER ABSORBEN PADA POPOK BAYI DALAM MENGONTROL KELEMBABAN TANAH
Nurfika Ramdani

Jurusan Kimia Fakultas Teknik Universitas Teknologi Sulawesi

Mariaulfa Mustam

Jurusan Kimia Fakultas Teknik Universitas Teknologi Sulawesi

Adhyatma Prawira Harun

Jurusan Kimia Fakultas Teknik Universitas Teknologi Sulawesi

Husain Azis

Jurusan Kimia Fakultas Teknik Universitas Teknologi Sulawesi

I Made Agus Setiawan

Jurusan Kimia Fakultas Teknik Universitas Teknologi Sulawesi
Abstract
The problem of disposable diaper waste is a serious problem that challenges the environment. Therefore, researchers are trying to use diaper waste in agriculture. Literature studies have been carried out as a form of scientific articles. The aim of this literature review are determine the absorption ability of Super Absorbent Polymers (SAP) on the effect of pH, temperature, salinity and soil moisture with the addition of Super Absorbent Polymer (SAP). This study was expected to increase knowledge about Super Absorbent Polymer (SAP) and its application related to the agricultural sector. From the results of the literature study, it was concluded that the swelling ability of the SAP reached the optimum conditions at pH 6.5 and 9, while the influence of temperature on the swelling ability of the SAP occurred at temperatures of 25oC, 50oC and 75oC. Swelling capacity conditions using saline solution showed a decrease in swelling capacity as the concentration of the salt solution increased. Soil moisture by adding super absorbent polymer showed significant results, which was 3 times higher than without SAP, i.e. moisture could last up to 18 days from the first day of watering but not for all types of plants.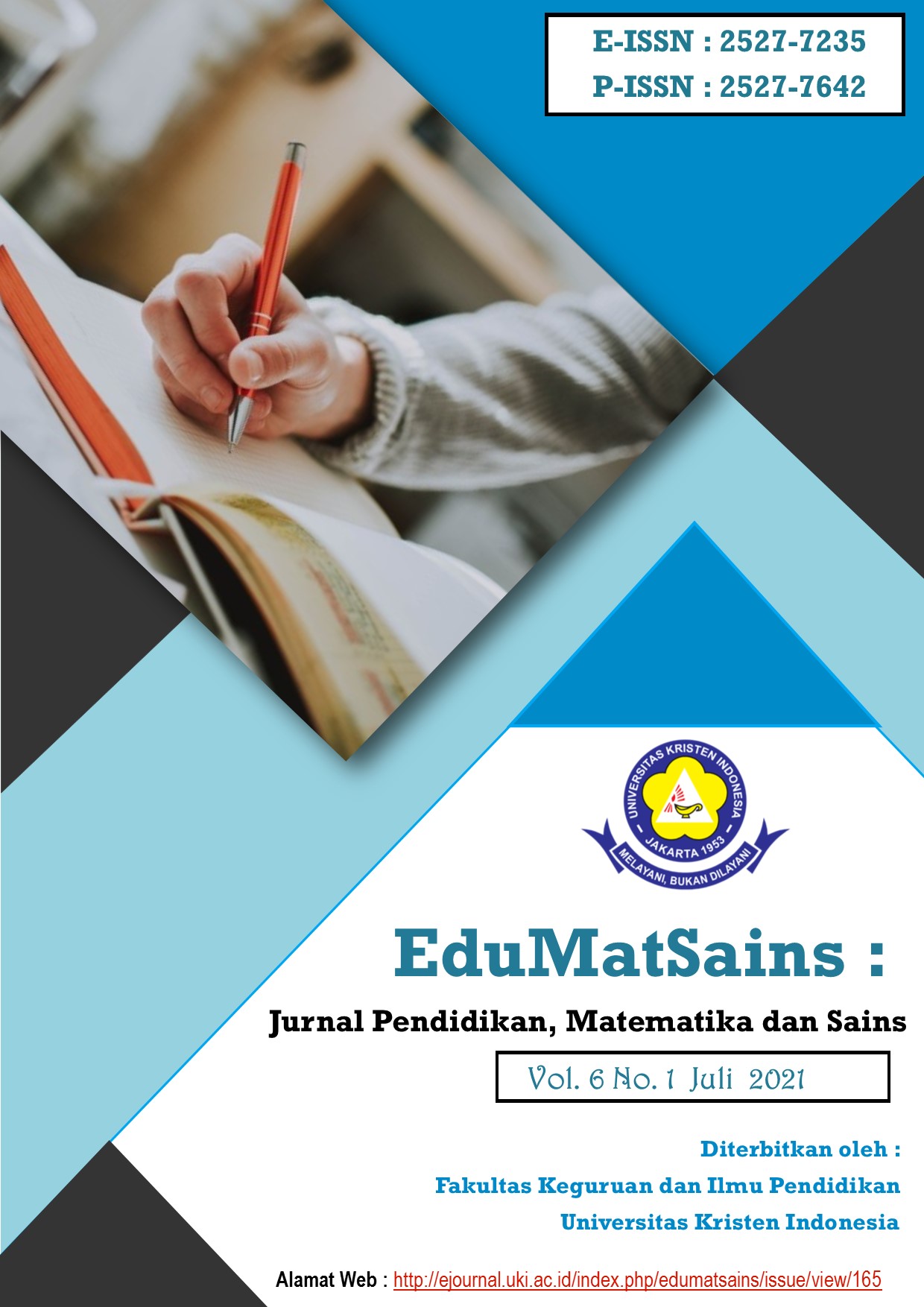 View 1375 times Download 1375 times PDF
How to Cite
Ramdani, N., Mustam, M., Prawira Harun, A., Azis, H., & Setiawan, I. M. A. (2021). PERAN POLIMER SUPER ABSORBEN PADA POPOK BAYI DALAM MENGONTROL KELEMBABAN TANAH . EduMatSains : Jurnal Pendidikan, Matematika Dan Sains, 6(1), 91-100. https://doi.org/10.33541/edumatsains.v6i1.2991
Copyright (c) 2021 Nurfika Ramdani, Mariaulfa Mustam, Adhyatma Prawira Harun, Husain Azis, I Made Agus Setiawan
This work is licensed under a Creative Commons Attribution 4.0 International License.