DAYA HAMBAT EKSTRAK CALLYSPONGIA SP. TERHADAP BAKTERI DARI Eucheuma Cottoni BERPENYAKIT Ice-Ice
Yosephina Payu Wao

Universitas Flores

Melania Priska

Program Studi Pendidikan Biologi FKIP Universitas Flores
Abstract
Callyspongia sp. is one type of sea sponge that produces secondary metabolites in the form of steroids, alkaloids, flavonoids, and terpenoids which can be used as antibacterial agents. This reseach aims to determine whether or not there is an inhibitory power of sea sponge extract Callyspongia sp. on the growth of bacterial isolates on Eucheuma cottonii seaweed that is infected by ice-ice disease. This type of research is an experimental laboratory. Extract of Callyspongia sp. is the result of Callyspongia sp. extraction which has been dried and then macerated using a polar ethanol solvent. Inhibition test with the modified Kirby-Bauer method used wells to measure the zone of inhibition formed by the extract of the Callyspongia sp. The test was carried out to observe the presence or absence of an inhibition zone of Callyspongia sp. extract against bacterial isolates (Isolates I, II and III) that is infected by seaweed that is infected by ice-ice disease after 24 hours of incubation. The results showed that an inhibition zone was formed in bacterial isolates. Treatment with extracts of Callyspongia sp. shows the diameter of the highest inhibition zone that is 16.67 mm which is classified as a strong inhibitory force, so that Callysponia sp. extract has the potential in overcoming ice-ice in Eucheuma cottonii seaweed.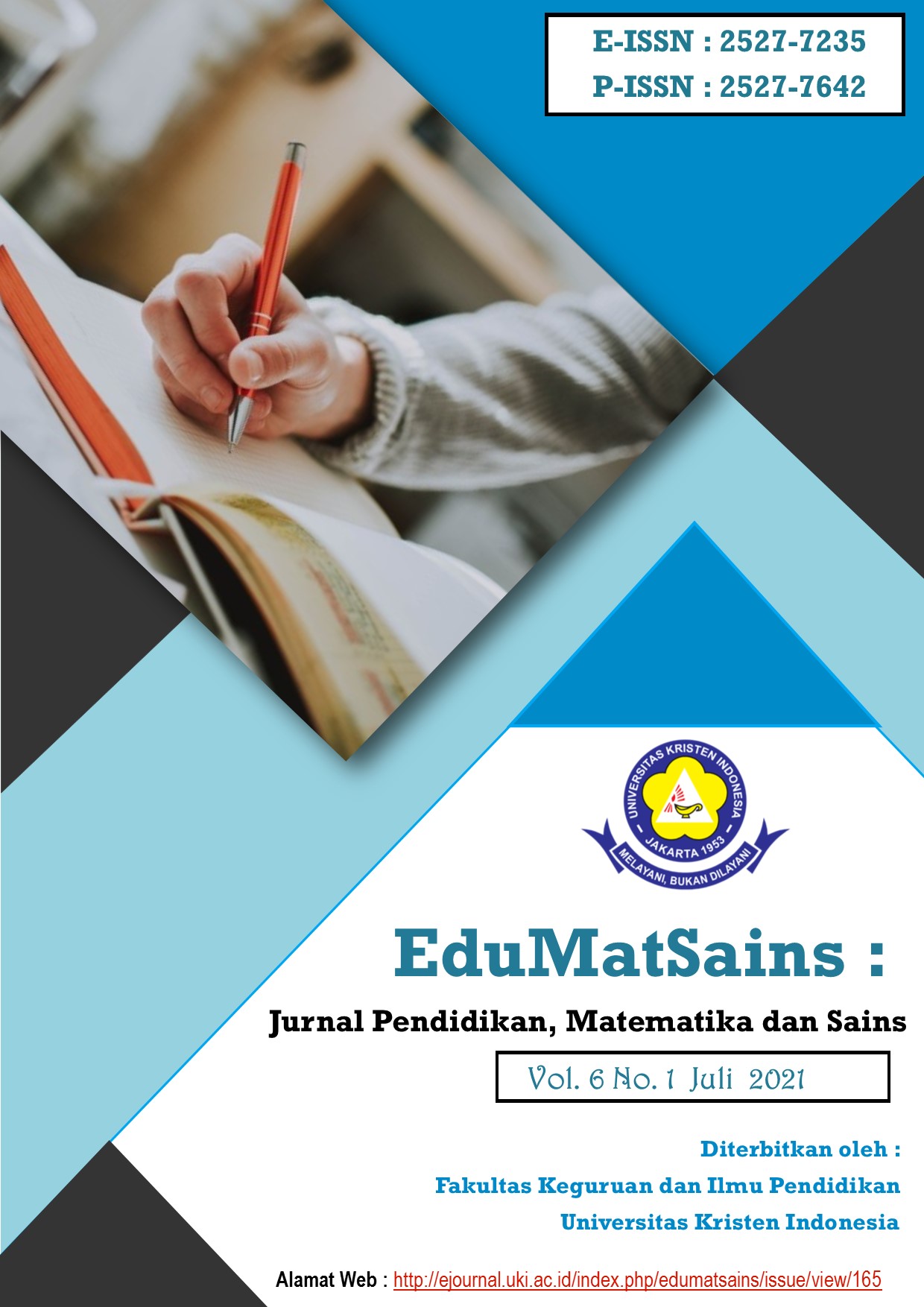 View 427 times Download 427 times PDF
How to Cite
Payu Wao, Y., & Priska, M. (2021). DAYA HAMBAT EKSTRAK CALLYSPONGIA SP. TERHADAP BAKTERI DARI Eucheuma Cottoni BERPENYAKIT Ice-Ice . EduMatSains : Jurnal Pendidikan, Matematika Dan Sains, 6(1), 111-122. https://doi.org/10.33541/edumatsains.v6i1.2983
Copyright (c) 2021 Yosephina Payu Wao
This work is licensed under a Creative Commons Attribution 4.0 International License.