EFEKTIVITAS PEMANFAATAN MEDIA PEMBELAJARAN TEKA-TEKI SILANG ONLINE TERHADAP PENINGKATAN MINAT BELAJAR SISWA
Desmitha Fritha Sababalat

Program Studi Pendidikan Kimia, FKIP Universitas Kristen Indonesia

Leony Sanga Lamsari Purba

Program Studi Pendidikan Kimia, FKIP Universitas Kristen Indonesia

Sormin Sormin

Program Studi Pendidikan Kimia, FKIP Universitas Kristen Indonesia
Abstract
This research is a quantitative research which aims to determine the effectiveness of the use of online crossword puzzle learning media in increasing student interest in learning. The population in this study were all students of SMA Widya Manggala. The sample in this study was selected using purposive sampling based on topic considerations. The research design was pre non test and post non test experimental control design. The learning interest questionnaire instrument used in this study was validated by expert validators. The results of the normality test for the Shapiro-Wilk approach show that the significance value (Sig.) Is 0.101. If associated with the normality criteria 0.101 is greater than 0.05 (0.101> 0.05). This means that the research data is normally distributed and can be analyzed using parametic statistics, in this case the one-sample t test. The normality test carried out in this study is a hypothesis test using SPSS 24, the significance value (Sig.) Of 0.000 is smaller than 0.05 (0.000 <0.05), so Ho is rejected and Ha is accepted. Hypothesis test results obtained that further gain test is carried out to determine how much increase in student learning outcomes. The result of the gain test is 0.336 with the medium category.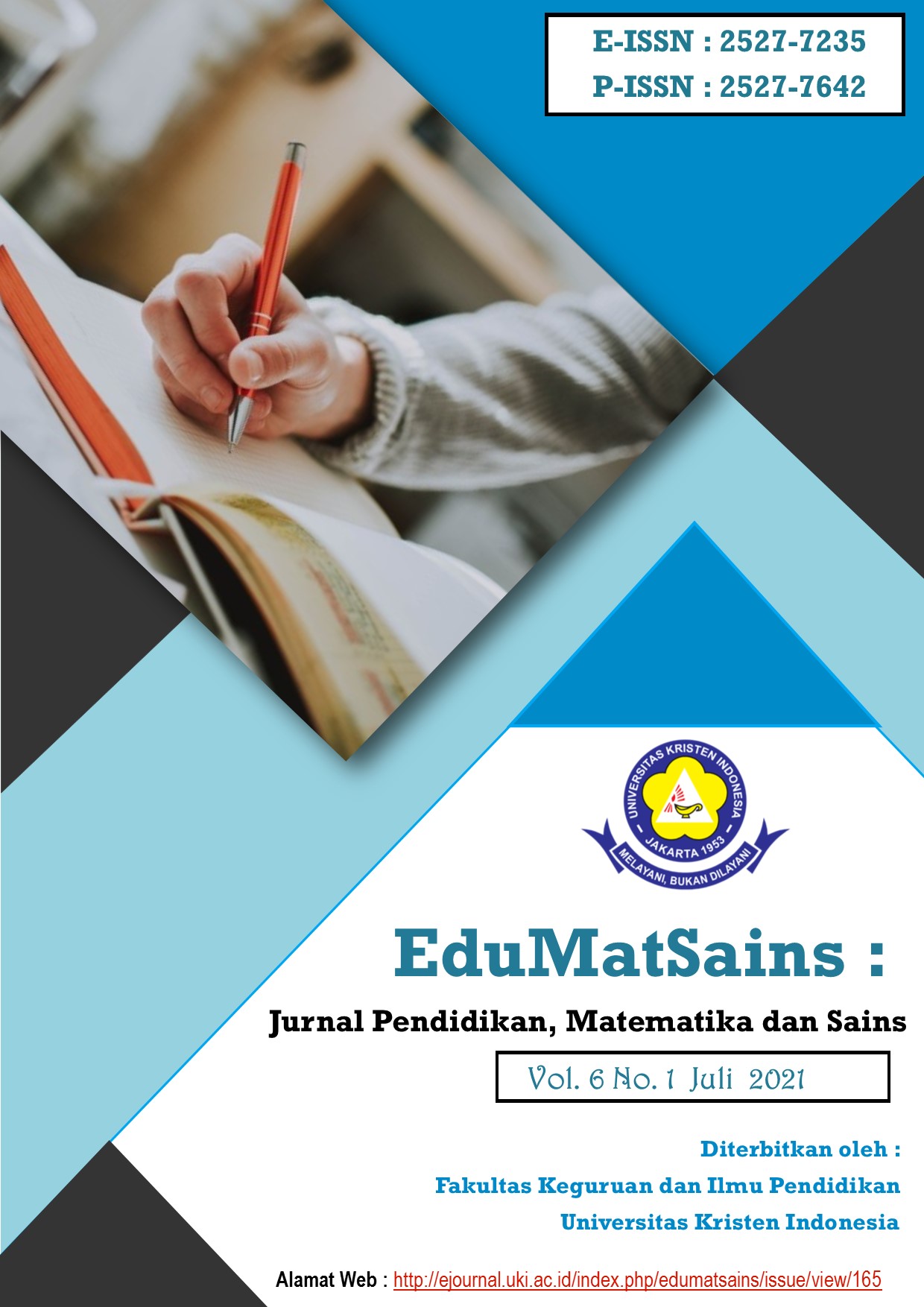 View 1867 times Download 1867 times PDF
How to Cite
Sababalat, D. F., Purba, L. S. L., & Sormin, S. (2021). EFEKTIVITAS PEMANFAATAN MEDIA PEMBELAJARAN TEKA-TEKI SILANG ONLINE TERHADAP PENINGKATAN MINAT BELAJAR SISWA. EduMatSains : Jurnal Pendidikan, Matematika Dan Sains, 6(1), 207-218. https://doi.org/10.33541/edumatsains.v6i1.2959
Copyright (c) 2021 Desmitha Fritha Sababalat, Leony Sanga Lamsari Purba, Sormin Sormin
This work is licensed under a Creative Commons Attribution 4.0 International License.