ANALISIS KEMAMPUAN LITERASI SAINS PESERTA DIDIK DALAM PEMBELAJARAN KIMIA MENGGUNAKAN MULTIMEDIA INTERAKTIF BERBASIS BLENDED LEARNING
Muhammad Shohibul Ihsan

Program Studi Biologi, FMIPA, Universitas Nahdlatul Wathan Mataram

Siti Wardatul Jannah

Program Studi Pendidikan Biologi, FKIP, Universitas Nahdlatul Wathan Mataram
Abstract
This study aims to determine the effect of blended learning-based interactive multimedia on students' scientific literacy skills. This type of research is a quasi-experimental study carried out with a non-equivalent control group design. This research was conducted in one of the high schools in Lombok, Indonesia, involving a control class and an experimental group. Pre-test and post-test were given by researchers to test students' scientific literacy skills in learning chemistry with the subject matter of oxidation-reduction reactions. The validity, reliability, and level of difficulty of the questions were tested using the Rasch Model. The statistical analysis used was the prerequisite test for data analysis and hypothesis testing using the t-test (Independent samples t-test) with the help of SPSS 20 for windows. The results showed that the average N-gain score of the experimental class students' scientific literacy was 78.5 with high criteria, the experimental class N-gain average score was 67.3 with medium criteria. So it can be concluded that the scientific literacy ability of the experimental class is higher than the control class and interactive multimedia based on blended learning affects increasing students' scientific literacy skills.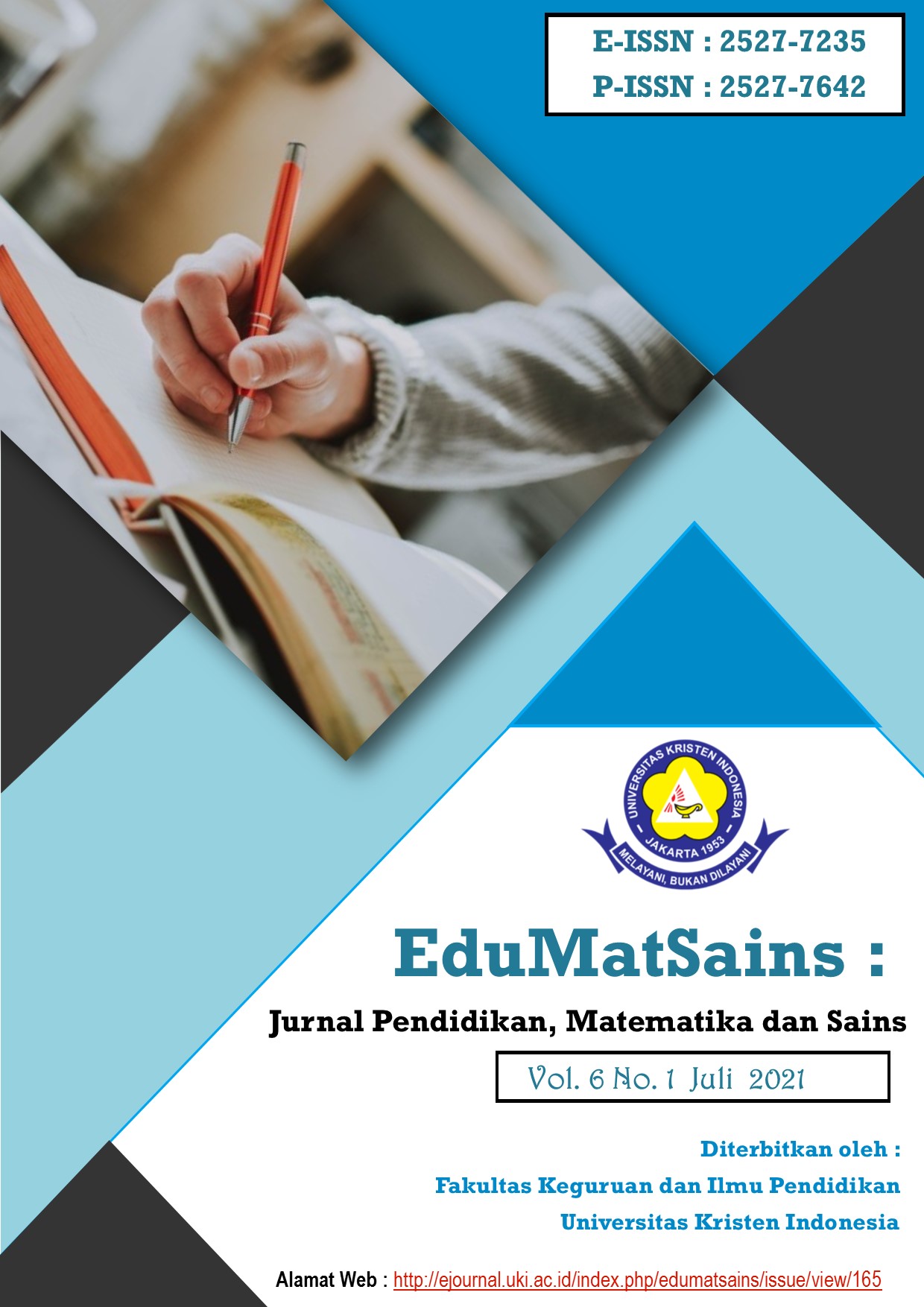 View 1460 times Download 1460 times PDF
How to Cite
Muhammad Shohibul Ihsan, & Siti Wardatul Jannah. (2021). ANALISIS KEMAMPUAN LITERASI SAINS PESERTA DIDIK DALAM PEMBELAJARAN KIMIA MENGGUNAKAN MULTIMEDIA INTERAKTIF BERBASIS BLENDED LEARNING. EduMatSains : Jurnal Pendidikan, Matematika Dan Sains, 6(1), 197-206. https://doi.org/10.33541/edumatsains.v6i1.2934
Copyright (c) 2021 Muhammad Shohibul Ihsan, Siti Wardatul Jannah
This work is licensed under a Creative Commons Attribution 4.0 International License.