UJI EFEKTIVITAS EPIKARPIUM BUAH NANGKA (artocarpus heterophyllus lamarck.) SEBAGAI SEDIAAN KRIM TABIR SURYA UV-B
Tara Inastu Kandarp

Program Studi Biologi, Fakultas Bioteknologi, Universitas Kristen Duta Wacana

Aniek Prasetyaningsih

Program Studi Biologi, Fakultas Bioteknologi, Universitas Kristen Duta Wacana

Vinsa Cantya Prakasita

Program Studi Biologi, Fakultas Bioteknologi, Universitas Kristen Duta Wacana
Abstract
Sunscreen is needed as protection against the skin from exposure to UV rays, because it will cause erythema, aging skin, blistering, and skin cancer, in skin that is not protected by sunscreen. This study aims to determine the in vitro and in vivo ability of epicarpium A. heterophyllus extract sunscreen cream preparations. This research was conducted in vitro and in vivo, beginning with the extraction process with the maceration method using 70% ethanol, identification of compounds in the extract, TLC, GC-MS, total flavonoids test, physical quality of cream preparations, SPF values ​​of extracts and creams, and in vivo sunscreen activity tests were conducted. The yield percentage produced from 450 grams of simplicia powder was 47.61%. The compounds in A. heterophyllus epicarpium extract are flavonoids, tannins, saponins, terpenoids, steroids, fatty acid groups, alcohol groups, and alkanes. Crude extract contains total flavonoids of 43.625 mgQE / g extract. The 75% concentration in the cream preparation had the highest SPF value of 8.173. The in vivo test used the MED (Minimal Erythema Dose) method of erythema scoring. A concentration of 75% gives the lowest MED value of 0.25. This research is expected to provide information on alternative uses of natural ingredients as the main ingredient of sunscreen so that the use of chemicals as the main ingredient will be reduced.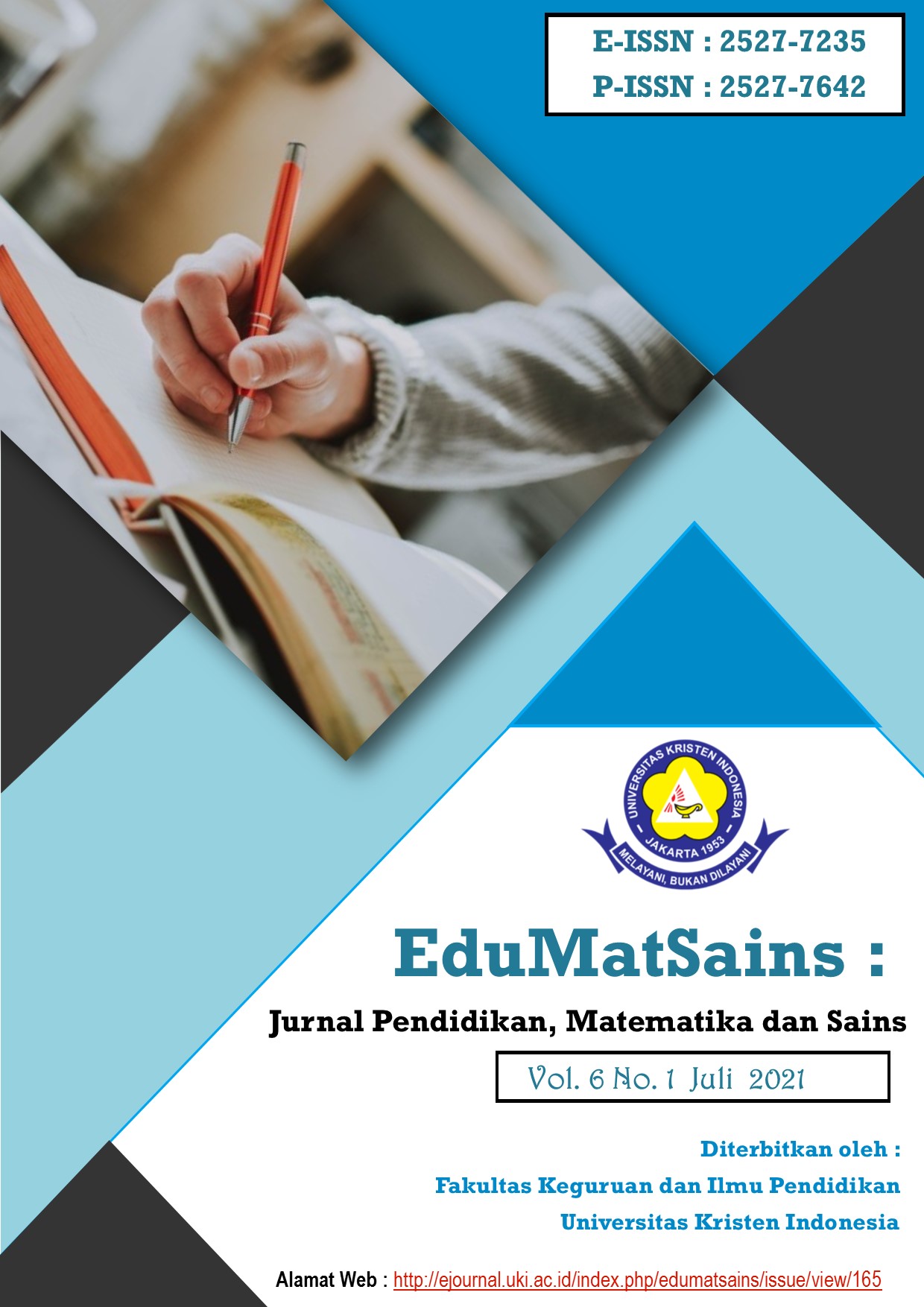 View 1548 times Download 1548 times PDF
How to Cite
Tara Inastu Kandarp, Prasetyaningsih, A., & Cantya Prakasita, V. (2021). UJI EFEKTIVITAS EPIKARPIUM BUAH NANGKA (artocarpus heterophyllus lamarck.) SEBAGAI SEDIAAN KRIM TABIR SURYA UV-B. EduMatSains : Jurnal Pendidikan, Matematika Dan Sains, 6(1), 31-46. https://doi.org/10.33541/edumatsains.v6i1.2798
Copyright (c) 2021 Tara Inastu Kandarp
This work is licensed under a Creative Commons Attribution 4.0 International License.