PENERAPAN MODEL PEMBELAJARAN KOOPERATIF GALLERY WALK UNTUK MENINGKATKAN HASIL BELAJAR BIOLOGI SISWA KELAS X SMA NEGERI 22 JAKARTA
Sondang Rosita Indah

SMA Negeri 22, Kec. Matraman, Kota Jakarta Timur, Daerah Khusus Ibukota Jakarta
Abstract
The application of a learning method will greatly affect the ability of students to understand a topic. The purpose of this study is to improve the learning outcomes of Biology of students by implementing cooperative learning model Gallery walk. This research was conducted at SMA Negeri 22 Jakarta in March to June 2019 using the action research method. Data collection is done through the provision of written tests to determine learning outcomes in studying ecosystems and environmental change. The data obtained were then analyzed by calculating the average value of the pretest and the average value of daily tests in cycle I and cycle II. The results showed that learning by applying Gallery walk cooperative learning can improve student Biology learning outcomes. Based on these results it can be concluded that Gallery walk cooperative learning can be used as an effort to improve Biology learning outcomes. The percentage of completeness of pre-cycle, cycle I, and cycle II respectively, namely 8.33%, 47.22%, and 88.89%. The learning outcomes of pre-cycle, cycle I, and cycle II respectively are 57, 68, and 76.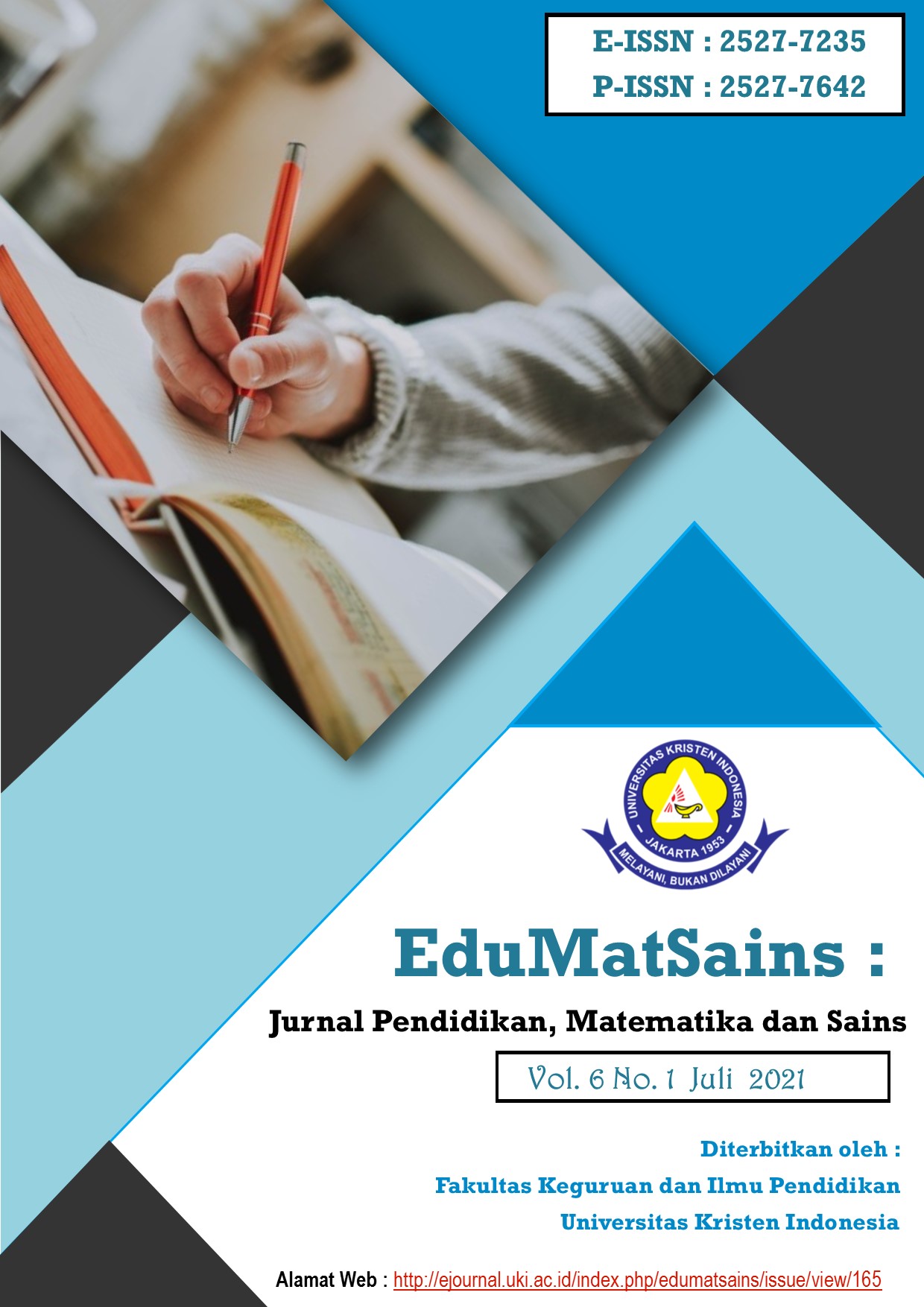 View 344 times Download 344 times PDF
How to Cite
Rosita Indah, S. (2021). PENERAPAN MODEL PEMBELAJARAN KOOPERATIF GALLERY WALK UNTUK MENINGKATKAN HASIL BELAJAR BIOLOGI SISWA KELAS X SMA NEGERI 22 JAKARTA . EduMatSains : Jurnal Pendidikan, Matematika Dan Sains, 6(1), 123-136. https://doi.org/10.33541/edumatsains.v6i1.2796
Copyright (c) 2021 Sondang Rosita Indah
This work is licensed under a Creative Commons Attribution 4.0 International License.