POTENSI EKSTRAK DAUN BINAHONG (Anredera cordifolia (Ten.) Steenis) DAN MINYAK ATSIRI SERAI (Cymbopogon citratus (DC.) Stapf) SEBAGAI BAHAN AKTIF HAND SANITIZER SPRAY
Adonia Felma Mosse

Program Studi Biologi, Fakultas Bioteknologi, Universitas Kristen Duta Wacana

Aniek Prasetyaningsih

Program Studi Biologi, Fakultas Bioteknologi, Universitas Kristen Duta Wacana

Dwi Adityarini

Program Studi Biologi, Fakultas Bioteknologi, Universitas Kristen Duta Wacana
Abstract
Maintaining hand hygiene is an important habit to prevent disease caused by microorganisms and viruses. Handsanitizer is one of hygiene products as antibacterial and practical use. However, the use of alcohol as its main ingredient could irritate skin. Therefore, the alternative of alcohol is urgently found to prevent this side effect in same effectiveness. in this research, Binahong (Anredera cordifolia (Ten.) Steenis leaf extract and lemongrass oil (Cymbopogon citratus (DC.) Stapf) are used to replace alcohol as the main ingredient. This study aims to know the potential antibacterial activity of binahong leaf extract, lemongrass oil and its combination against S.aureus and its effectiveness as an active ingredient in hand sanitizer spray. Binahong extraction using the maceration method. The secondary metabolites of both extracts were identified by phytochemical assay. Then, their antibacterial activity was determined using a disk diffusion test for S. aureus. The organoleptic of hand sanitizer spray was observed. The highest antibacterial activity was obtained from the combination of binahong leaf extract and lemongrass oil 100% at ratio 1:1. This combination was used to formulate the hand sanitizer spray.  The highest inhibitory activity of hand sanitizer spray was shown in the formulation with 3% active ingredients (extracts). This product had dark yellow in colour, distinctive aroma, and liquid texture and effectively suppresses bacterial growth on the hands. According to the results, binahong leaf extract and lemongrass oil are potentially used as active ingredients for natural hand sanitizer sprays.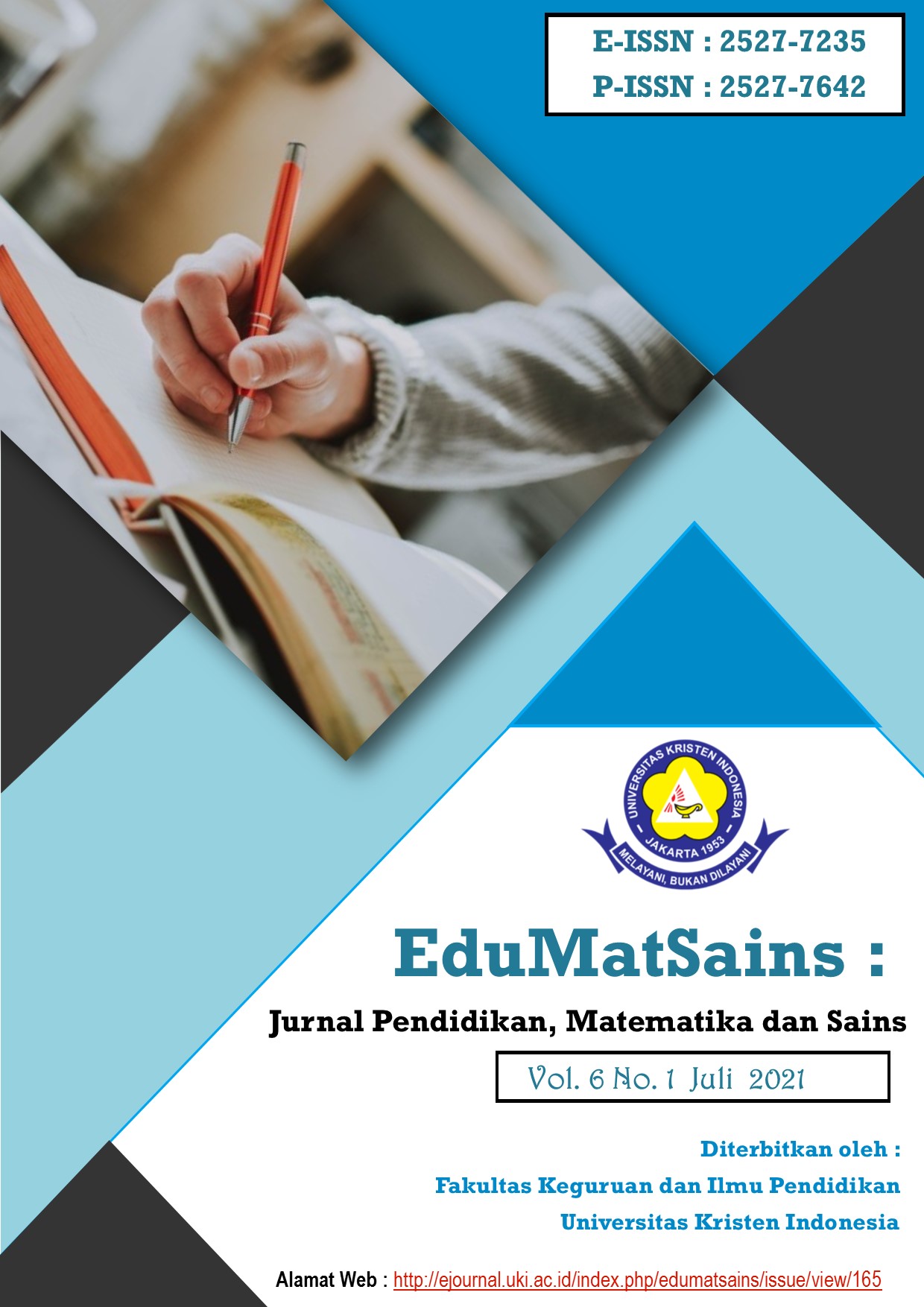 View 2463 times Download 2463 times PDF
How to Cite
Felma Mosse, A., Prasetyaningsih, A., & Adityarini, D. (2021). POTENSI EKSTRAK DAUN BINAHONG (Anredera cordifolia (Ten.) Steenis) DAN MINYAK ATSIRI SERAI (Cymbopogon citratus (DC.) Stapf) SEBAGAI BAHAN AKTIF HAND SANITIZER SPRAY. EduMatSains : Jurnal Pendidikan, Matematika Dan Sains, 6(1), 17-30. https://doi.org/10.33541/edumatsains.v6i1.2474
Copyright (c) 2021 Adonia Felma Mosse, Dwi Adityarini
This work is licensed under a Creative Commons Attribution 4.0 International License.