POTENSI BIOAKARISIDA EKSTRAK DAUN MIMBA (Azadirachta Indica) DAN BUNGA CENGKEH (Syzygium Aromaticum) TERHADAP TUNGAU PENYEBAB PENYAKIT KREPES PADA JAMUR KUPING
Meilani Apra

Universitas Kristen Duta Wacana

Aniek Prasetyaningsih

Fakultas Bioteknologi, Universitas Kristen Duta Wacana

Kukuh Madyaningrana

Fakultas Bioteknologi, Universitas Kristen Duta Wacana
Abstract
Wood ear mushrooms  is commonly known as one of the cultivated edible mushrooms in Indonesia. The demand for this commodity is still steadily high and leads mushroom farmers to optimize its cultivation. For mushroom farmers in Yogyakarta, the prevalence of krepes disease which is caused by a group of species belongs to Acarina order is still high and leads to total loss of harvest. In order to diminish these Acarina species, the use of chemical acaricides is common because of their effectiveness in eradicating the pests despite their toxic effect to the environment. A strategy to provide environmental friendly acaricides which are  extracted from plants is therefore important. This research aimed to study the potency of neem leaves (Azadirachta indica) and clove flowers (Eugenia caryophyllata) extracts as bioacarisides for Acarina species as the causal agent of krepes disease. Neem leaves and cloves flowers were extracted using maceration and soxhlet extraction  methods, using 96% methanol as their solvents. Obtained crude extracts would then be subjected to phytochemical analysis using qualitative biochemical tests and GC-MS. The effectivity of extracts as bioacaricides were tested both in in vitro and field scale. In vitro tests showed that neem leaves extract and clove flower extract had LC50 value ​​of 0.22% and 0.48% respectively. Field scale test on mushroom baglogs showed that the efficacy of the neem leaves and clove flower to eradicate acarina were above 50%. Taken together, neem leaves and clove flower extracts are potential to be used as bioacaricides in mushroom farming.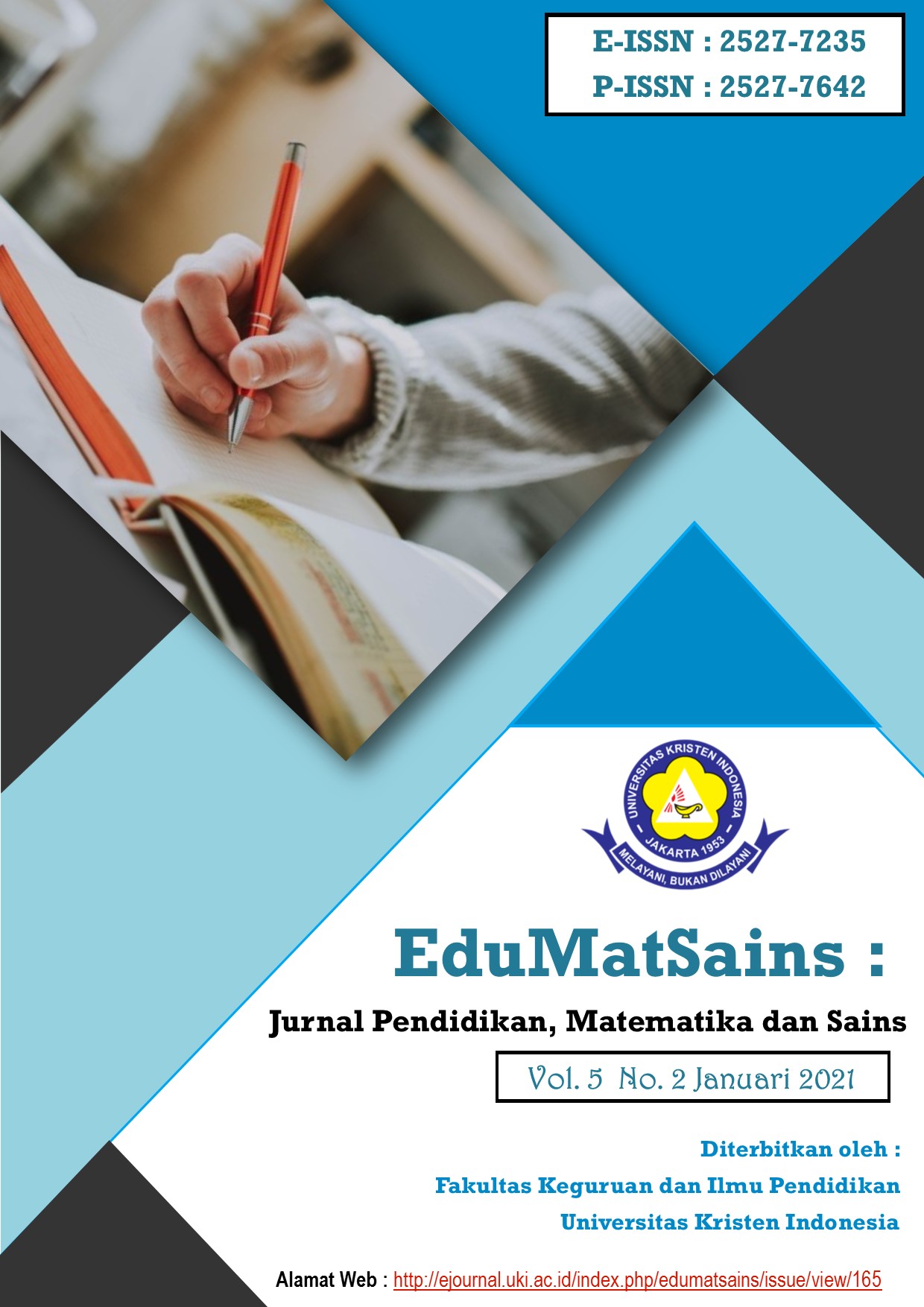 View 604 times Download 604 times PDF
How to Cite
Apra, M., Aniek Prasetyaningsih, & Kukuh Madyaningrana. (2021). POTENSI BIOAKARISIDA EKSTRAK DAUN MIMBA (Azadirachta Indica) DAN BUNGA CENGKEH (Syzygium Aromaticum) TERHADAP TUNGAU PENYEBAB PENYAKIT KREPES PADA JAMUR KUPING . EduMatSains : Jurnal Pendidikan, Matematika Dan Sains, 5(2), 225-238. https://doi.org/10.33541/edumatsains.v5i2.2241
Copyright (c) 2021 Meilani Apra
This work is licensed under a Creative Commons Attribution 4.0 International License.