PERSEPSI MAHASISWA UNIVERSITAS TIMOR PRODI PENDIDIKAN BIOLOGI TERHADAP E- LEARNING PADA KONDISI PANDEMI COVID -19
Vinsensia U. R. Sila

Unimor

Kamaludin

Program Studi Pendidikan Biologi Universitas Timor
Abstract
E-learning is an indirect learning process using electronic devices and the internet which facilitates the teaching and learning process during the COVID-19 pandemic. E-learning could help students to be more active in independent learning with renewable learning references. The purpose of this study was to determine students' perceptions of e-learning during the COVID-19 pandemic. This descriptive study was conducted by using a questionnaire technique for Biology Education students at the Faculty of Educational Sciences, Timor University. The total students involved in this study were 171 students from the first year until the third year who have been selected randomly;  Students stated that they knew about using the internet as much as 97.7%, understood e-learning by 89.5% and the ease of operation was 85.5%. The implementation of e-learning with the Edmodo platform shows that it was most widely used, namely 54.7% of students, then Google Classroom with 45.3% of students. This is because students have not known yet about other various types of e-learning platforms available on the Internet and the two platforms were considered light and easy to operate with complete features. Meanwhile, 97.1% of students stated that e-learning was very useful in supporting the teaching and learning process. The main obstacle faced by students in e-learning were the unstable network connection, power outages, the availability of cellphones and data packages. This research could give the knowledge about the level of students' knowledge about e-learning, various platforms and the obstacles faced during the implementation of e-learning.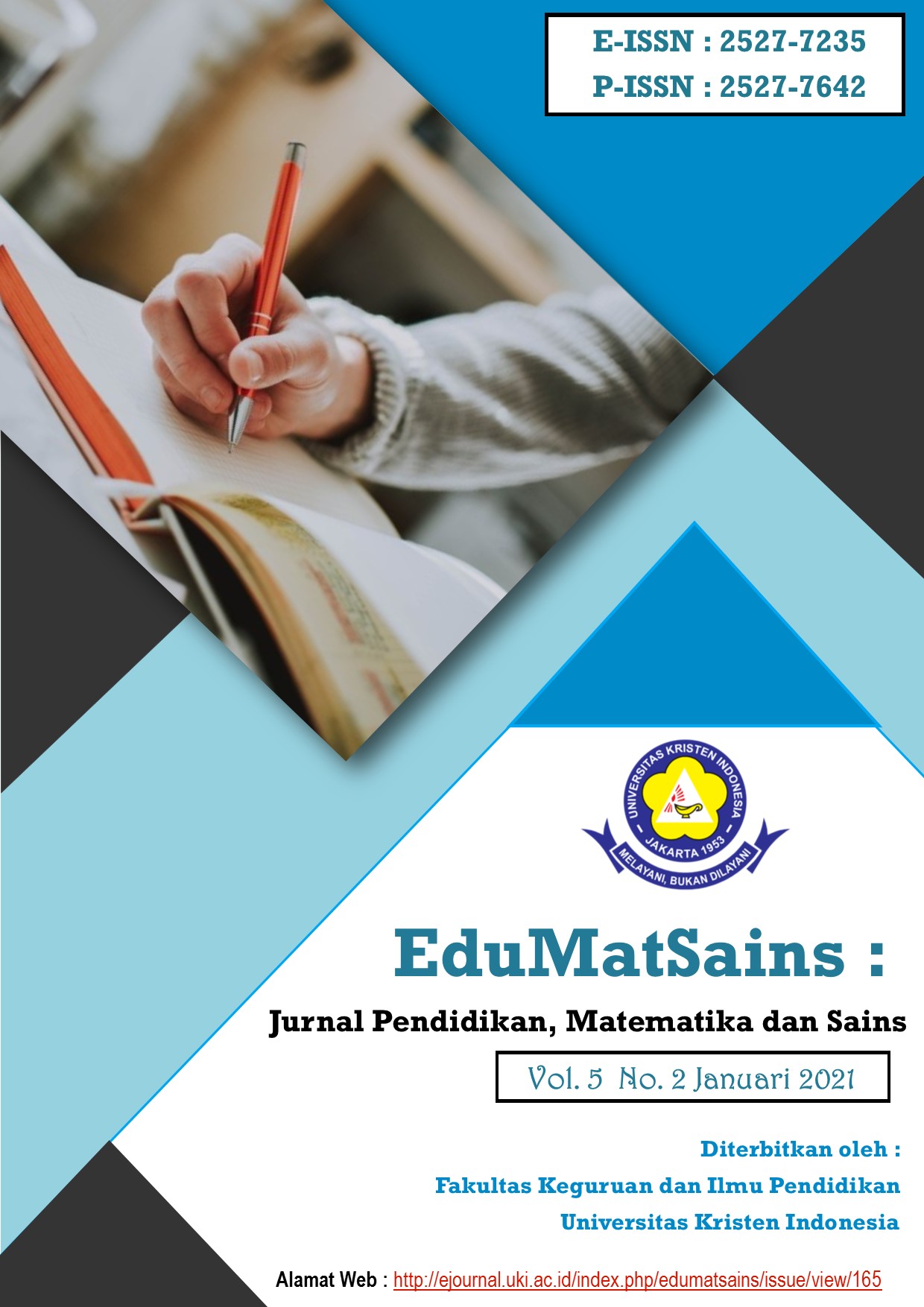 View 248 times Download 248 times PDF
How to Cite
Vinsensia U. R. Sila, & Kamaludin. (2021). PERSEPSI MAHASISWA UNIVERSITAS TIMOR PRODI PENDIDIKAN BIOLOGI TERHADAP E- LEARNING PADA KONDISI PANDEMI COVID -19. EduMatSains : Jurnal Pendidikan, Matematika Dan Sains, 5(2), 123-138. https://doi.org/10.33541/edumatsains.v5i2.2191
Copyright (c) 2021 Kamaluddin
This work is licensed under a Creative Commons Attribution 4.0 International License.