PENGARUH MODEL PEMBELAJARAN PROBLEM BASED LEARNING TERHADAP KEMAMPUAN PEMECAHAN MASALAH MATEMATIS
Muhammad Rizky Mazaly

Universitas Potensi Utama

Doni Irawan Saragih

Jurusan Pendidikan Matematika Universitas Potensi Utama

Lavenia Ulandari

Jurusan Pendidikan Matematika Universitas Pembangunan Panca Budi
Abstract
The objectives of this study were as follows firstly, to identify whether there was an improvement of students' mathematical problem solving ability treated with problem -  based learning, rather than those who obtained ordinary learning; and secondly, to recognize the process of students' answers in each learning.  This research was a quasi-experimental research.  The population in this study consisted of all students in class VIII at SMP Budi Agung Medan totaling 345 students, by a sample of two classes totaling 60 students.  Data analysis was performed with the Manova Statistical Test.  The results of this study showed that the improvement of students' mathematical problem solving abilities treated with problem basedearning was better than that of those obtaining regular learning, and the process of students' answer treated with problem based earning was more complete than that of the students' with ordinary learning.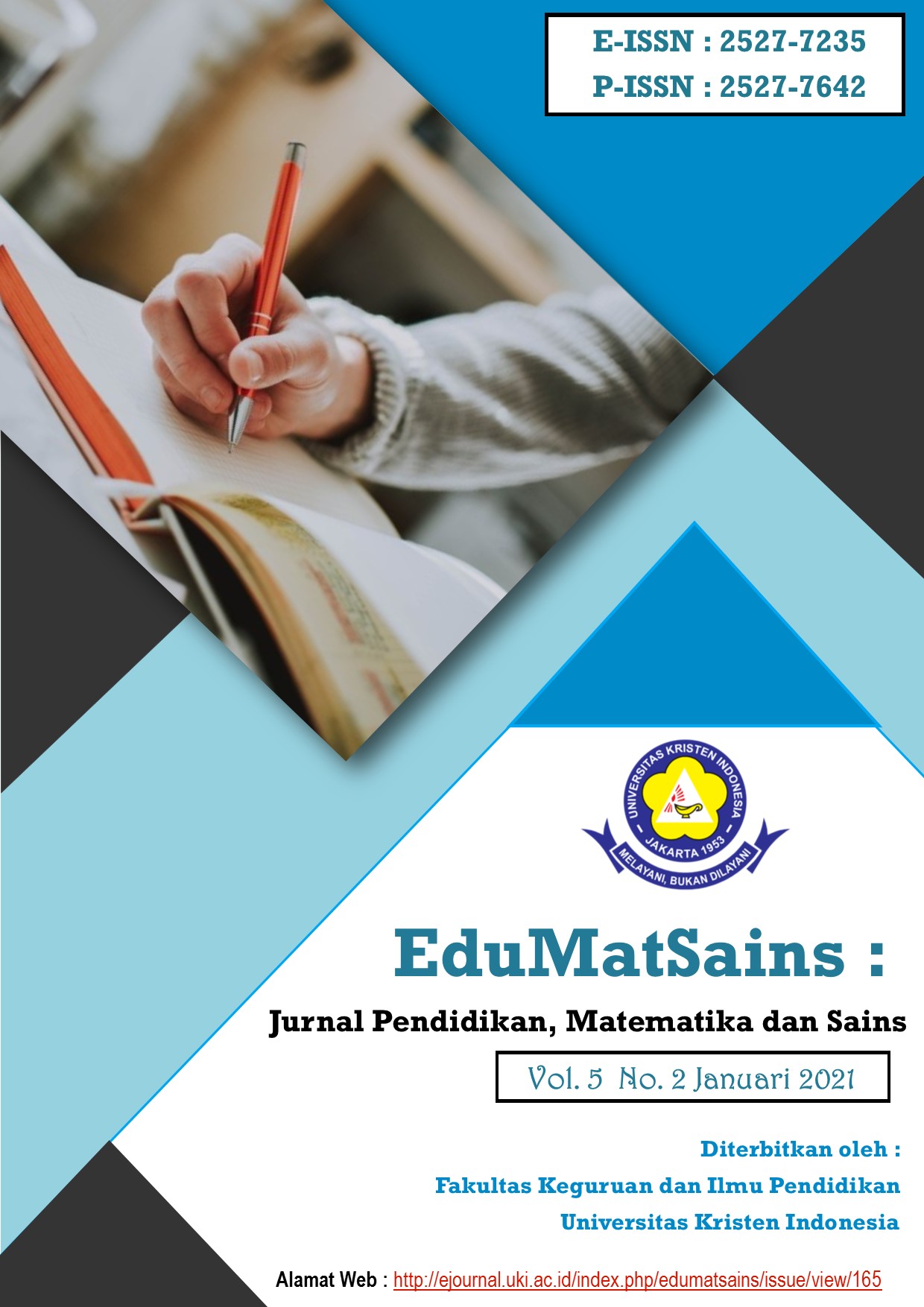 View 245 times Download 245 times PDF
How to Cite
Muhammad Rizky Mazaly, Doni Irawan Saragih, & Lavenia Ulandari. (2021). PENGARUH MODEL PEMBELAJARAN PROBLEM BASED LEARNING TERHADAP KEMAMPUAN PEMECAHAN MASALAH MATEMATIS. EduMatSains : Jurnal Pendidikan, Matematika Dan Sains, 5(2), 179-190. https://doi.org/10.33541/edumatsains.v5i2.2159
Copyright (c) 2021 Muhammad Rizky Mazaly
This work is licensed under a Creative Commons Attribution 4.0 International License.