PEMANFAATAN LABORATORIUM IPA DI SMA NEGERI 1 LAHUSA
Darmawan Harefa

STKIP Nias Selatan

Efrata Ge'e

Sekolah Tinggi Keguruan dan Ilmu Pendidikan Nias Selatan

Kalvintinus Ndruru

Sekolah Tinggi Keguruan dan Ilmu Pendidikan Nias Selatan

Mastawati Ndruru

Sekolah Tinggi Keguruan dan Ilmu Pendidikan Nias Selatan

Lies Dian Marsa Ndraha

Sekolah Tinggi Keguruan dan Ilmu Pendidikan Nias Selatan

Tatema Telaumbanua

Sekolah Tinggi Keguruan dan Ilmu Pendidikan Nias Selatan

Murnihati Sarumaha

Sekolah Tinggi Keguruan dan Ilmu Pendidikan Nias Selatan

Fatolosa Hulu

Sekolah Tinggi Keguruan dan Ilmu Pendidikan Nias Selatan
Abstract
The laboratory is very closely related to practicum activities in learning science. The aim of this service to find out whether the science laboratory i utilized properly by teachers and students in learning science (physics, biology and chemistry) related to the laboratory. This type of research is quantitative descriptive research. Research results (1) The state of the Natural Sciences laboratory is in good category with a percentage value of 63.45%, (2) The Natural Sciences laboratory equipment has not met the standards set forth in Permediknas of the Republic of Indonesia number 14 of 2007 with a percentage value of 54.87%, (3) Frequency and the utilization of laboratory science not good enough with percentage value of 58.42%. It can be concluded that science laboratories are not utilized well by teachers and students due to inadequate equipment and materials.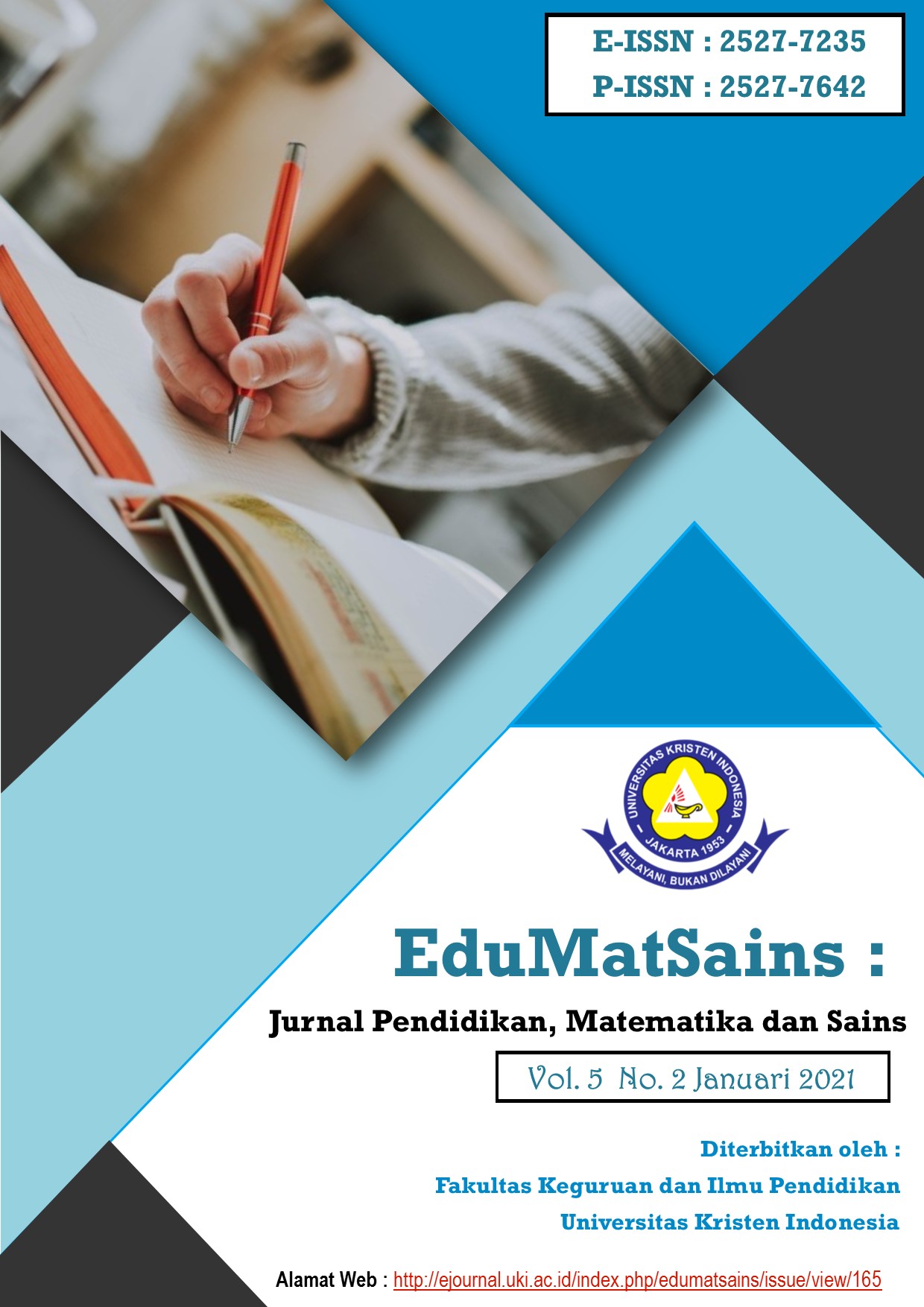 View 966 times Download 966 times PDF
How to Cite
Harefa, D., Efrata Ge'e, Kalvintinus Ndruru, Mastawati Ndruru, Lies Dian Marsa Ndraha, Tatema Telaumbanua, Murnihati Sarumaha, & Fatolosa Hulu. (2021). PEMANFAATAN LABORATORIUM IPA DI SMA NEGERI 1 LAHUSA. EduMatSains : Jurnal Pendidikan, Matematika Dan Sains, 5(2), 105-122. https://doi.org/10.33541/edumatsains.v5i2.2062
Copyright (c) 2021 Darmawan Harefa
This work is licensed under a Creative Commons Attribution 4.0 International License.