PENGARUH WAKTU KALSINASI TERHADAP KARAKTERISTIK KRISTAL CaO DARI LIMBAH CANGKANG KEPITING
N. D. Malau

Program Studi Pendidikan Fisika, Universitas Kristen Indonesia

S.F. Azzahra

Program Studi Pendidikan Kimia, Universitas Kristen Indonesia
Abstract
Crab is one of the commodities exported by Indonesia in the fisheries sector. Crab processing to be exported produces crab waste. Crab shells contain high calcium carbonate. With a large CaCO3 content, crab shells can be used as a precursor of CaO in hydroxyapatite synthesis. CaO can be obtained by calcining calcium carbonate contained in the crab shell waste content. The calcination process is the process of decomposition of calcium carbonate (CaCO3) compounds into calcium oxide compounds (CaO) through heating at high temperatures. In this study the calcination temperature used was 1000 oC while the calcination time was varied ie 6 hours and 10 hours. The results showed that the crab shell, which is a source of CaCO3, which was calcined at 1000 oC for 6 hours and 10 hours both produced CaO compounds. CaO compounds produced have a crystalline form and are not in the form of amorphous. This can be observed from the XRD diffraction pattern, which is seen many peaks with varying intensity values. The second crystal system of the sample is cubic. There was no significant difference in the pattern of XRD calcination results of 6 hours and 10 hours, the difference only lies in the value of the variation in intensity of the peaks that formed. So it can be concluded that calcination at a temperature of 1000 oC with a length of 6 hours and 10 hours produces CaO crystals with a crystal size at a maximum peak is around 10 A.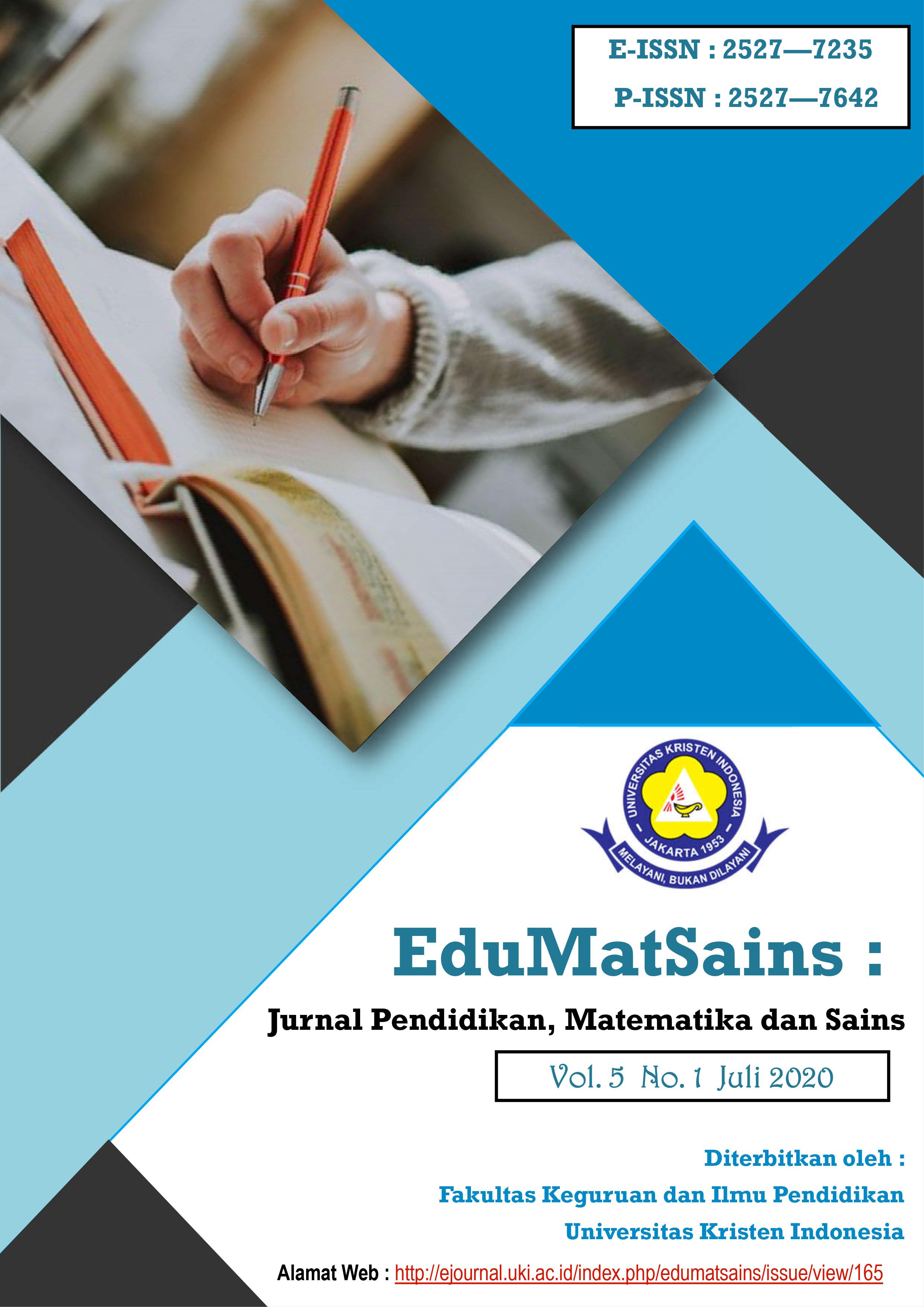 View 72 times Download 72 times PDF
How to Cite
Malau, N. D., & Azzahra, S. (2020). PENGARUH WAKTU KALSINASI TERHADAP KARAKTERISTIK KRISTAL CaO DARI LIMBAH CANGKANG KEPITING. EduMatSains : Jurnal Pendidikan, Matematika Dan Sains, 5(1), 83-92. https://doi.org/10.33541/edumatsains.v5i1.1777
Copyright (c) 2020 N. D. Malau, S.F. Azzahra
This work is licensed under a Creative Commons Attribution 4.0 International License.