KEMAMPUAN PEMECAHAN MASALAH MATEMATIS SISWA PADA MATERI TEOREMA PYTHAGORAS BERDASARKAN KEMAMPUAN VISUALISASI SPASIAL
Y. Isnaini

Jurusan Pendidikan Matematika, FKIP, Universitas Sultan Ageng Tirtayasa

H. Pujiastuti

Jurusan Pendidikan Matematika, FKIP, Universitas Sultan Ageng Tirtayasa
Abstract
The ability to solve mathematical problems is an important part of learning mathematics that links daily life. The importance of having good mathematical problem solving skills, so understanding mathematics is also good, especially on the pythagoras theorem material. Material related to the construction of this triangle can be applied in calculations in real life. To be able to construct the concept of the pythagoras theorem problem, it needs an ability that can represent imagination into an object, this ability is called spatial visualization ability. This research will discuss the students' mathematical problem solving abilities on the pythagoras theorem material based on the spatial visualization abilities possessed by students. The research method used was a qualitative research with a descriptive approach to students of class VIII MTS 38 Jakarta. The test instrument was a matter of pythagoras theorem description and spatial visualization intelligence test. The results showed that students who have low spatial visualization skills tend not to be able to solve problem solving problems well, students who have moderate problem solving abilities can solve problem solving problems even though there are still steps that are not right, while students who have high spatial visualization abilities can solve problem solving problems with the right steps and answers.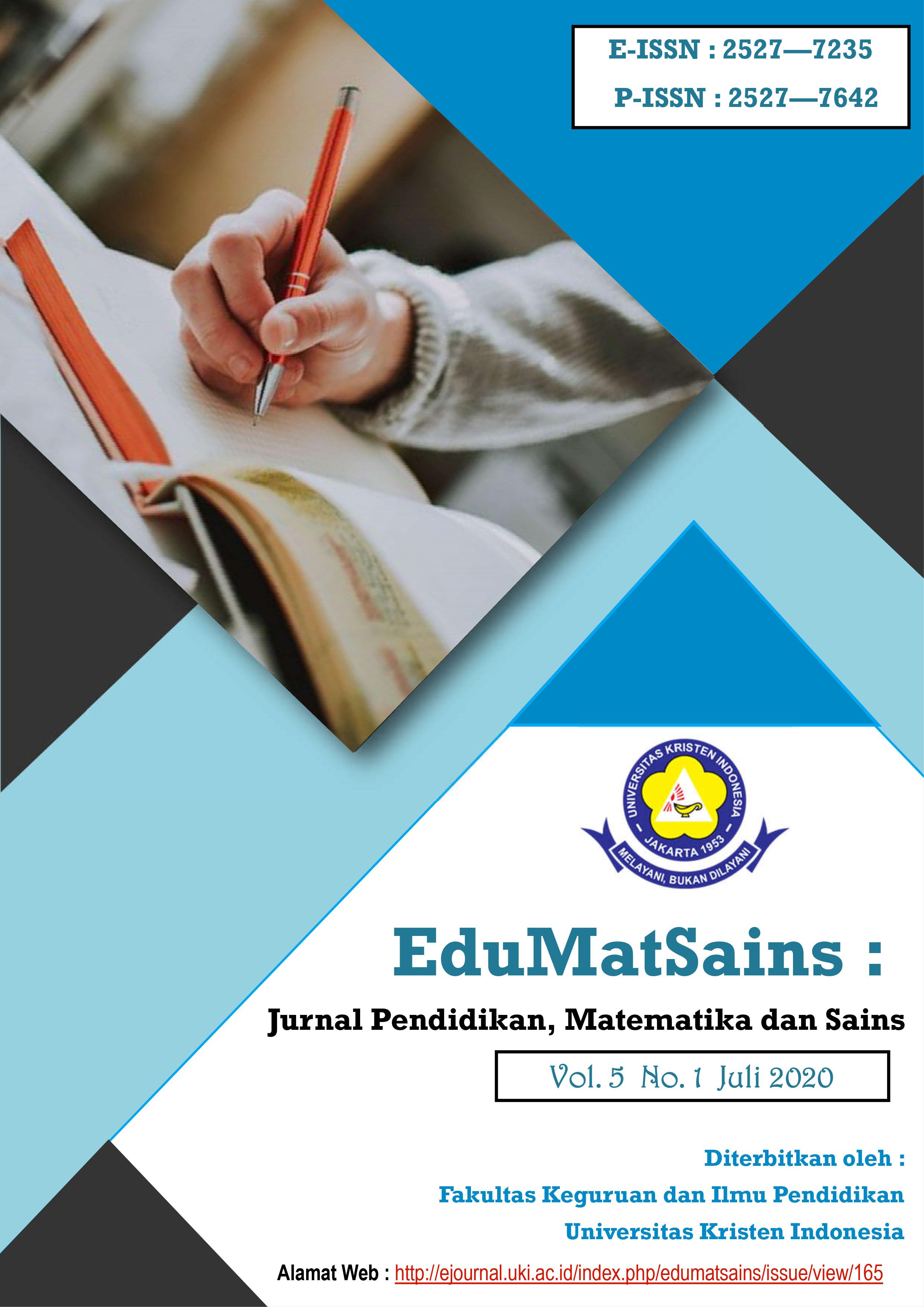 View 63 times Download 63 times PDF
How to Cite
Isnaini, Y., & Pujiastuti, H. (2020). KEMAMPUAN PEMECAHAN MASALAH MATEMATIS SISWA PADA MATERI TEOREMA PYTHAGORAS BERDASARKAN KEMAMPUAN VISUALISASI SPASIAL. EduMatSains : Jurnal Pendidikan, Matematika Dan Sains, 5(1), 51-64. https://doi.org/10.33541/edumatsains.v5i1.1630
Copyright (c) 2020 Y. Isnaini, H. Pujiastuti
This work is licensed under a Creative Commons Attribution 4.0 International License.