SUBALTERNITY ISSUES IN STEVE MCQUEEN'S MOVIE 12-YEARS A SLAVE
Felia Aditya S. Meliala

UNIVERSITAS KRISTEN INDONESIA FSB

Mike Wijaya Saragih

UNIVERSITAS KRISTEN INDONESIA FSB
Keywords:
black people, racism, slavery, subalternity
Abstract
This paper aims to show the form of subalternity which occurs in the movie 12 Years a Slave (2013), a biopic of a slave and his life in the times of racism and slaves in America in the year 1841. Being a black person during that time was extremely difficult as they were treated as slaves and were sold freely and legally. This movie depicts the life of Solomon Northup, a kidnapped black freeman who was then sold as a slave to pick cotton. With slavery as its background, this movie shows a lot of graphic torture scenes which depict the cruelty with which white people tortured black people. To find the subalternity experienced by Solomon, the author will analyze the movie's narrative and cinematography. Furthermore, this research will be based on Gayatri Spivak's (1985) theory which discusses the voiceless and oppressed groups. The result of this research shows that in the movie 12 Years a Slave, subalternity is constantly found in Solomon's life. Subalternity is reflected through Solomon's experience as a part of the oppressed group whose lives are controlled by white people (the oppressor), whose voices are absent and who could only fight with hope and thoughts.
References
Gramsci, A. (1988). A Gramsci Reader: Selected Writings 1916–1935, edited by David Forgacs. London: Lawrence &Wishart.
Hidayatullah. (2015). Slavery in Steve Mcqueen's Movie" Twelve Years A Slave". Skripsi. Adab and Humanity Faculty State Islamic University of Alauddin. Makassar.
Kilburn, M. (1996). Glossary of Key Terms in the Works of G. C. Spivak. Retrieved December 20, 2019, from http://144.214.21.63/CCS/core/postcolonialism/frameset/Glossary.htm
McQueen, Steve. (2013). 12 Years a Slave. United States of America: FOX Searchlight Picture.
Nugroho, Arfianto Adi (2015). Representasi Whiteness dalam Film 12 Years a Slave. Skripsi. Universitas Diponegoro.
Spivak, G.C. (1985). 'Can the Subaltern Speak? Speculations on Widow-Sacrifice'. Wedge Winter/Spring 120-130.
Wulandari, P. (2017). Racism discourse in the 12 years a slave film script. Skripsi. University of Muhammadiyah. Sumatera Utara.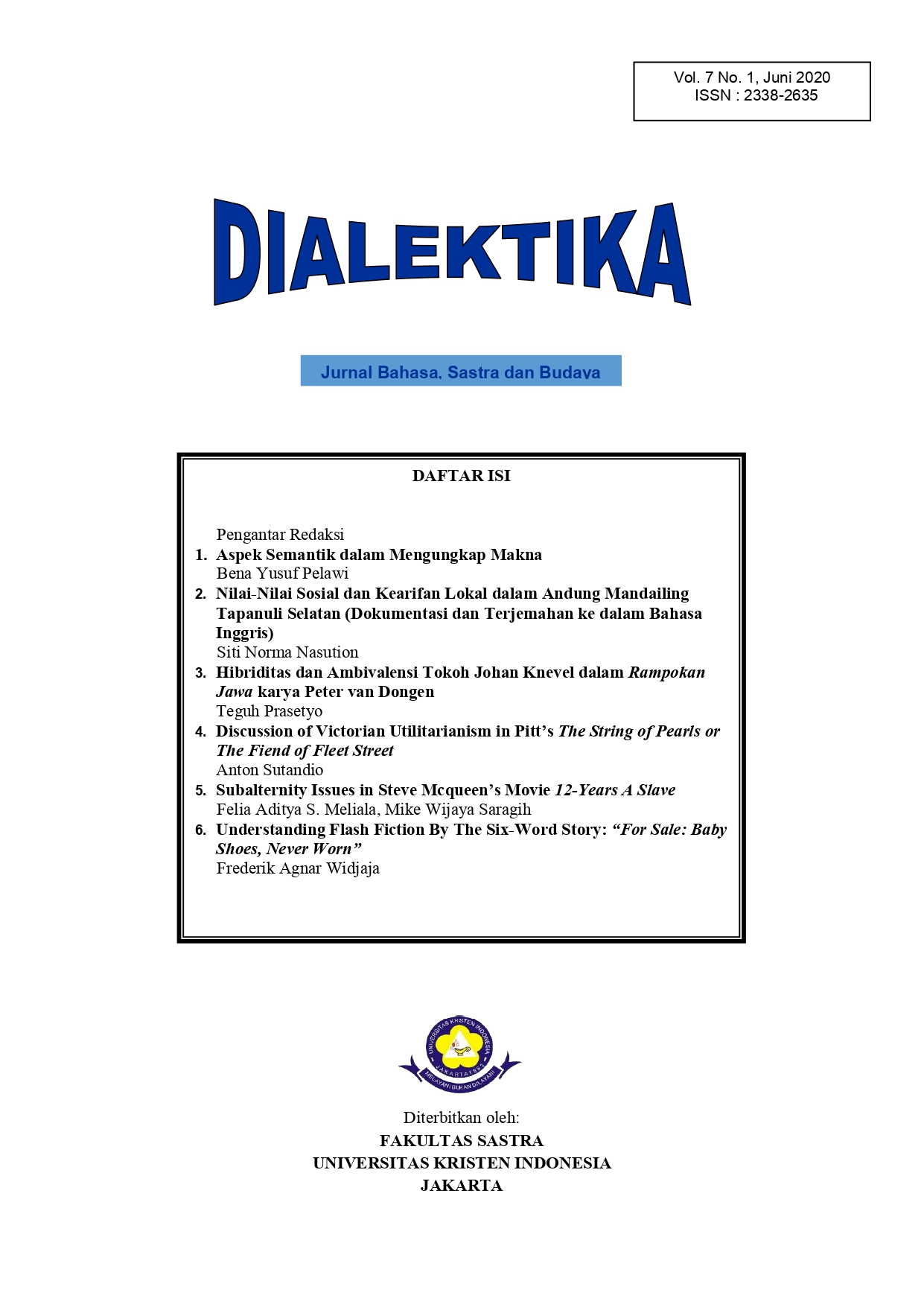 View 9 times Download 9 times PDF