AN INVESTIGATION OF ENGLISH DEVELOPMENT OF YOUNG LEARNERS AT STAR KIDS PRESCHOOL
Febrimarini Sinulingga

Program Studi Sastra Inggris, Fakultas Sastra dan Bahasa, Universitas Kristen Indonesia
Abstract
Abstrak
Tujuan dari penelitian ini adalah untuk mengetahui perkembangan bahasa Inggris pelajar muda di prasekolah Star Kids. Ini adalah studi kasus. Pengumpulan data dilakukan melalui observasi dan wawancara semi terstruktur. Sumber data diambil dari guru, orang tua, dan kepala sekolah sebagai perwakilan manajemen sekolah di TK Star Kids. Analisis data menunjukkan bahwa guru di prasekolah Star Kids membantu pelajar muda mengembangkan bahasa Inggris mereka, tetapi pengetahuan tentang pelajar muda masih kurang. Orang tua dan kepala sekolah puas dengan guru karena mereka menjaga komunikasi yang baik. Temuan data menunjukkan bahwa para guru membutuhkan lebih banyak seminar, lokakarya, atau kursus dalam mengajar pelajar muda dengan benar.
Kata kunci: investigasi, pengembangan, siswa TK
Abstract
The purpose of this study is to investigate the English development of young learners at Star Kids preschool. It is a case study. The data were collected through observations and semi-structured interviews.  The data sources were taken from the teachers, the parents, and the headmaster as the school management representative in Star Kids preschool. The data analysis indicated that the teachers in Star Kids preschool help young learners develop their English language, but the knowledge about young learners is still insufficient. The parents and the headmaster satisfy with the teachers since they maintain good communication. The data findings suggest that the teachers need more seminars, workshops, or courses in teaching young learners properly.
Keywords: investigation, development, young learners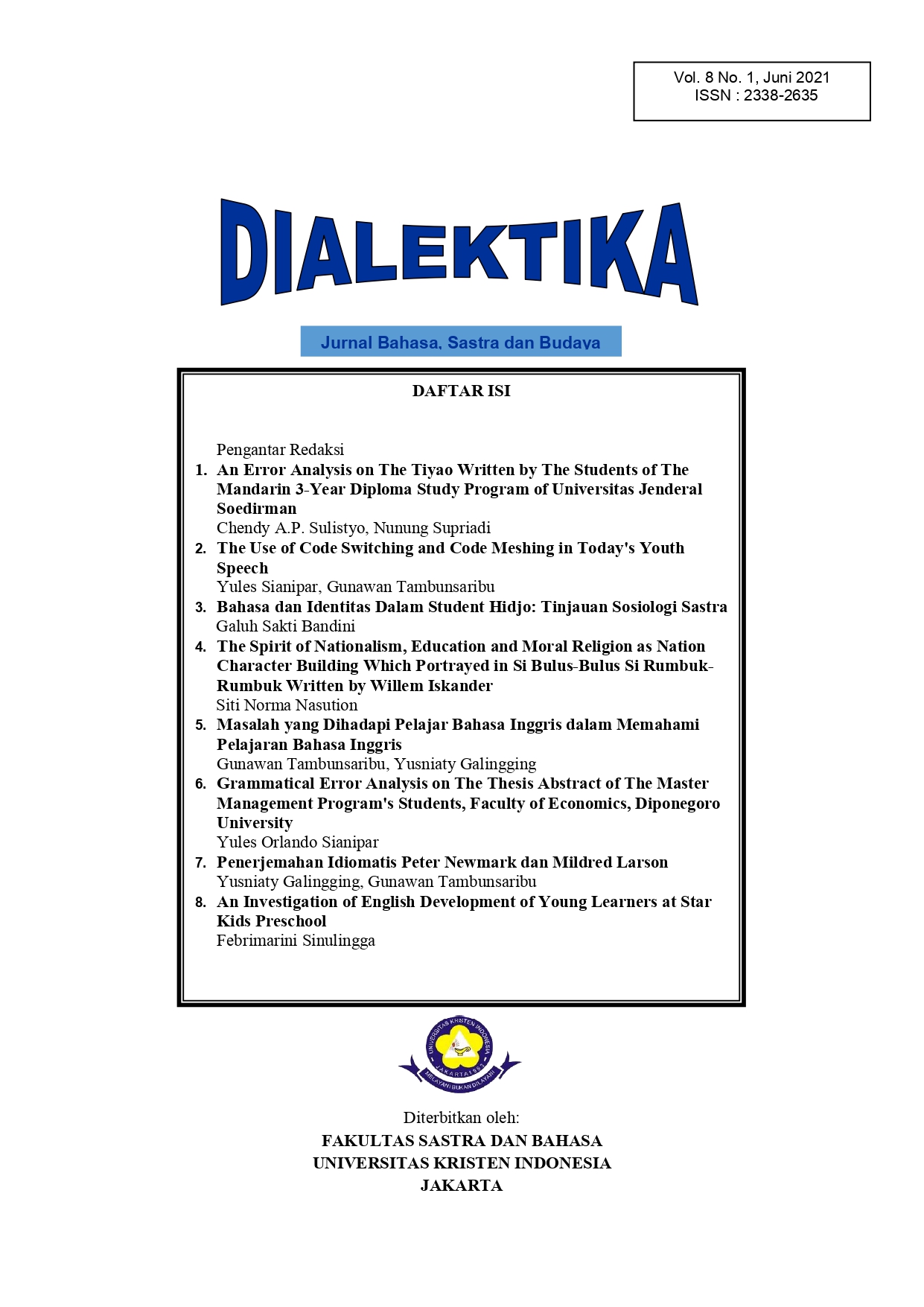 View 32 times Download 32 times PDF