BAHASA DAN IDENTITAS DALAM STUDENT HIDJO: TINJAUAN SOSIOLOGI SASTRA
Galuh Sakti Bandini

SMA Bina Nusantara
Abstract
Abstrak
Dunia sastra Indonesia sebelum kemerdekaan cukup unik. Ditinjau dari segi bahasa, ada dua jenis sastra Indonesia yang beredar di Hindia Belanda, yaitu karya sastra yang menggunakan bahasa Melayu Tinggi dan Bahasa Melayu Pasar. Masing-masing bahasa mewakili ideologi tertentu. Tulisan ini membahas penggunaan bahasa dalam Student Hidjo karya Mas Marco Kartodikromo dan kaittannya dengan identitas, ditinjau dari sudut pandang sosiologi sastra. Dari penelitian ini terlihat bahwa penggunaan bahasa Melayu Rendah yang dicampur bahasa Belanda di dalam Student Hidjo tidak hanya menunjukkan identitas tokoh sebagai intelektualis muda, tapi juga sebagai bentuk perlawanan Mas Marco terhadap kolonialisme.
Kata Kunci: Student Hidjo, Mas Marco, Bahasa, identitas, sosiologi sastra.
Abstract
The world of Indonesian literature before independence was unique. In terms of language, there are two types of Indonesian literature circulating in the Dutch East Indies, literary works that use the High Malay and the Pasar/low Malay. Each language represents a certain ideology. This paper discusses the use of language in Mas Marco Kartodikromo's Student Hidjo and its relation to identity from the sociology of literature. From this research, it can be seen that the use of Low Malay mixed with Dutch in Student Hidjo not only shows the identity of the character as a young intellectual but also as a form of Mas Marco's resistance to colonialism.
Keyword: Student Hidjo, Mas Marco, language, identity, sociology of literature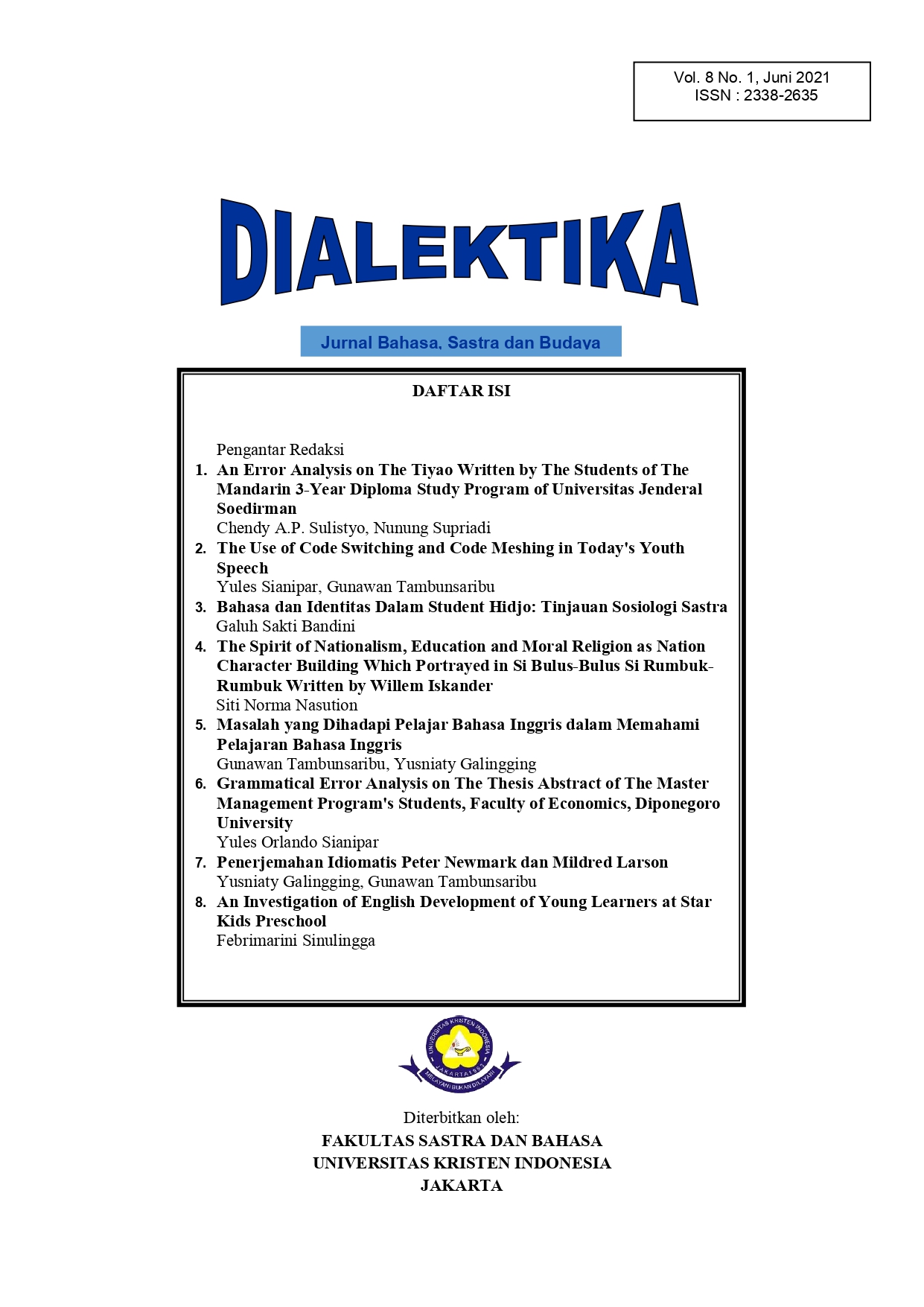 View 85 times Download 85 times PDF