PENGARUH PENAMBAHAN BATU GRANIT DAN RAMBUT SEBAGAI FILLER TERHADAP KUAT TEKAN DAN LENTUR BETON
Mardiaman

Universitas Tama Jagakarsa

Ahmad Fadly

Jurusan Teknik Sipil, Universitas Tama Jagakarsa

Indriasari

Teknik Sipil Universitas Krisnadwipayana
Keywords:
Filler, granite, flexure, compressive strength, hair
Abstract
Concrete is a mixture consisting of fine aggregate, coarse aggregate, water, cement, and with or without other additives. This research uses a mixture of concrete with hair waste and granite, where the amount of hair waste produced every day from thousands of barbershops in Indonesia is increasing rapidly. The innovation of granite shard waste in the construction of this building is to utilize the waste of granite shards leftover from construction. This study aimed to determine the effect of using granite and hair as a filler on the compressive strength of concrete and the flexural strength of concrete. The time in this study for 35 days was tested for concrete aged 7,14,21,28 and 28 days. With a variation of 0%, 2.5%; 7.5%; 12.5%; 17.5% and 22.5%. The results of this study found that comparing the compressive strength of normal concrete with mixed concrete in the 35-day old concrete test for normal concrete was 321.1 kg/cm2 while for mixed concrete was 305.7 kg/cm2. For comparing the flexural strength of normal concrete with mixed concrete in the 35-day old concrete test, for normal concrete, it is 32 kg/cm2, while for mixed concrete, it is 31.3 kg/cm2. It turns out that the compressive and flexural strength of concrete by adding granite and hair with certain variations to the mixture is still lower than normal co
References
Amin, M., & Abdelsalam, B. A. (2019). Efficiency of rice husk ash and fly ash as reactivity materials in sustainable concrete. Sustainable Environment Research, 1(1), 1–10. https://doi.org/10.1186/s42834-019-0035-2
Arman, A., & Saputra, A. M. (2015). Pengaruh Penambahan Kapur Padang Panjang Pengganti Semen Untuk Beton Normal. Jurnal Momentum, 17(1), 8–12.
Baktiar, A. A., & Lubis, Z. (2021). Pengaruh Penambahan Serbuk Kaca Terhadap Kuat Tekan Beton Non-Struktural. Jurnal Teknika, 13(2), 73. https://doi.org/10.30736/jt.v13i2.632
Dwita, E., Manalu, D. F., & Sabri, F. (2017). Analisis Pengaruh Penggunaan Batu Pecah Granit Pulau Bangka terhadap Kuat Tekan dan Porositas Beton Berpori sebagai Bahan Penutup Halaman. Fropil, 5(2), 86–96.
Garcya, M. G., Djauhari, Z., & Kurniawandy, A. (2018). The Effect of Addition of Waste Wast Oil Filtering Palm Oil As An Additive On Compressive Strength And Flexural Strength of Concrete. JOM FTEKNIK, 2(1), 1–13. http://link.springer.com/10.1007/978-3-319-76887-8%0Ahttp://link.springer.com/10.1007/978-3-319-93594-2%0Ahttp://dx.doi.org/10.1016/B978-0-12-409517-5.00007-3%0Ahttp://dx.doi.org/10.1016/j.jff.2015.06.018%0Ahttp://dx.doi.org/10.1038/s41559-019-0877-3%0Aht
Hendrik. (2017). Pengaruh Penambahan Lateks dan serat Rambut Terhadap Beton (Issue 1). Sumatera Utara.
Ikhsan, M. N., Prayuda, H., & Saleh, F. (2016). Effect of Addition of Broken Glass as a Substitute for Fine Aggregate and Addition of Optical Fiber to Compressive Strength of Fiber Concrete. JURNAL ILMIAH SEMESTA TEKNIKA, 19(2), 148–156.
Kambli, P. S. (2014). Compressive Strength of Concrete by Using Coconut Shell. IOSR Journal of Engineering, 4(4), 01–07. https://doi.org/10.9790/3021-04470107
Kavitha, S., & Kala, T. F. (2016). Effectiveness of bamboo fiber as an strength enhancer in concrete Effectiveness of Bamboo Fiber as a Strength Enhancer in Concrete. International Journal of Earth Science and Engineering, 9(June 2016), 1–6. www.cafetinnova.org
Kusnadi, & Sulistyorini, D. (2011). Pengaruh Penambahan Superplastisizer Terhadap Campuran Beton Ringan Yang Menggunakan Styrofoam. Inersia, VII(2), 124–140.
Mardiaman. (2020). Effect of Stone Ash Mixture and Coconut Fiber on Concreate Compressive Strenght. Modern Environmental Science and Engineering, 6(4), 462–471. https://doi.org/10.15341/mese(2333-2581)/04.06.2020/005
Mardiaman, & Dewita, H. (2022). Effect of Adding Fly Ash and Rice Husk Ash on Compressive Strength to Meet the f c ' 35 MPa Concrete Quality. Civilla Jurnal Teknik Sipil Universitas Islam Lamongan, 07(1), 35–46.
Prayitno, S., Supardi, & Wijaya, D. (2016). Study Of Strenght of Pressure and Strenght of High-Quality Concrete land Low With Fly Ash and Bestmittel Additioanal Materials. E-Jurnal Matriks Teknik Sipil, September, 843–849.
Putri, W. R., Utama, P. S., & Olivia, M. (2021). Kuat Tekan Beton Pofa ( Palm Oil Fuel Ash ) Dengan Bahan Tambah Silica Fume. 8, 1–8.
Singh, D. K. (2016). Effect on Compressive Strength of Paver Block by Partial Replacement of Cement with Fly Ash. 2(11), 856–859.
Tampubolon, S. P. (2022). Struktur Beton I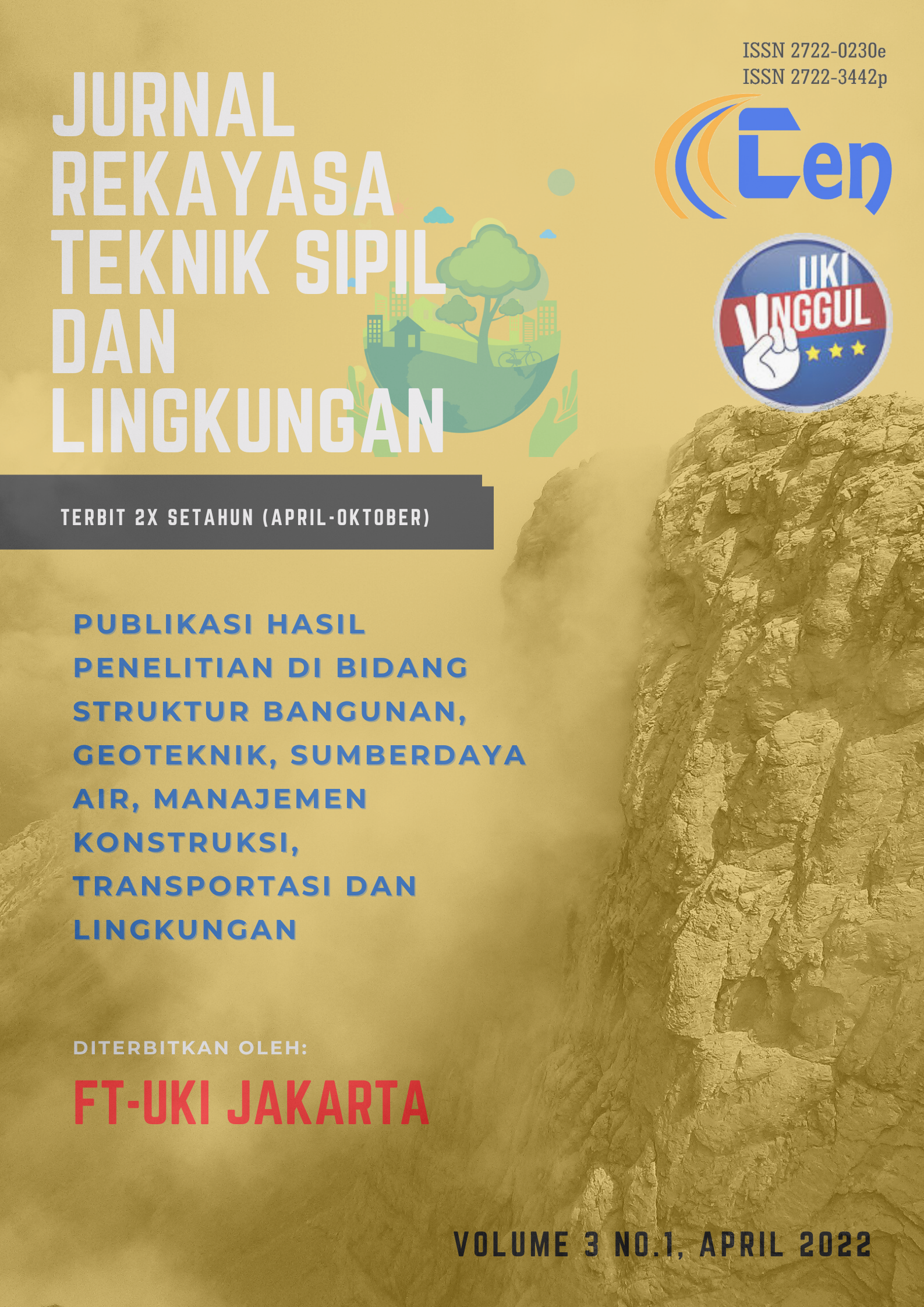 View 216 times Download 216 times Paper 2
How to Cite
Mardiaman, Fadly, A., & Indriasari. (2022). PENGARUH PENAMBAHAN BATU GRANIT DAN RAMBUT SEBAGAI FILLER TERHADAP KUAT TEKAN DAN LENTUR BETON . Jurnal Rekayasa Teknik Sipil Dan Lingkungan - CENTECH, 3(1), 11-22. https://doi.org/10.33541/cen.v3i1.3821
Copyright (c) 2022 Mardiaman, Ahmad Fadly, Indriasari
This work is licensed under a Creative Commons Attribution 4.0 International License.
Hak Cipta atas Tulisan Karya Ilmiah
Bersama dengan ini saya sebagai penulis utama menyatakan bahwa paper yang saya kirimkan untuk dipublikasikan melalu Jurnal Rekayasa Teknik Sipil dan Lingkungan adalah benar merupakan hasil orisinil Tulisan Karya Ilmiah yang merupakan hasil penelitian/kajian yang saya lakukan dan belum pernah dipublikasikan pada penerbit Jurnal ilmiah lain di Indonesia.
Jika di kemudian hari ternyata ditemukan bukti adanya hal-hal yang tidak sesuai dari pernyataan diatas maka saya bersedia menerima konsekuensi yang diberikan oleh Dewan Redaksi Jurnal Rekayasa Teknik Sipil dan Lingkungan serta paper yang telah diterbitkan akan DIBATALKAN dan dinyatakan sebagai hasil karya PLAGIASI.