PEMANFAATAN FILLER KAPUR CANGKANG KERANG SEBAGAI PENGGANTI FILLER ABU BATU UNTUK MENINGKATKAN DURABILITAS BETON ASPAL TERHADAP PERENDAMAN
Risma Masniari Simanjuntak

Civil Engineering Universitas Kristen Indonesia
Keywords:
shell lime filler, rock ash, hydrated lime (CaOH2), Marshall value, immersion
Abstract
Efforts to minimize the damage to the road due to rainwater puddles can be done by alternative replacement of some of the asphalt concrete pavement forming material by replacing part or all of the standard filler in the form of rock ash with shell lime containing Ca(OH)2. With reference to the use of hydrated lime from limestone as a filler that can increase the durability of asphalt mixtures, the waste of shells processed into hydrated lime can be analogous to the same benefit. This research was conducted by Marshall testing method on asphalt mixtures using stone ash filler by replacing stone ash with shell lime filler with a variation ratio to get a comparison  of Marshall values ​​and make a comparison of the decrease in these values ​​if the repeated dry wet process is tested using rainwater that has a pH 4,9 and will be done 2 times, 3 times, and 4 times immersion. From the analysis of the test results it was found that an increase in the stability value in increasing the percentage of shell lime filler and a smaller decrease in Marshall value due to repeated immersion compared to the use of rock ash.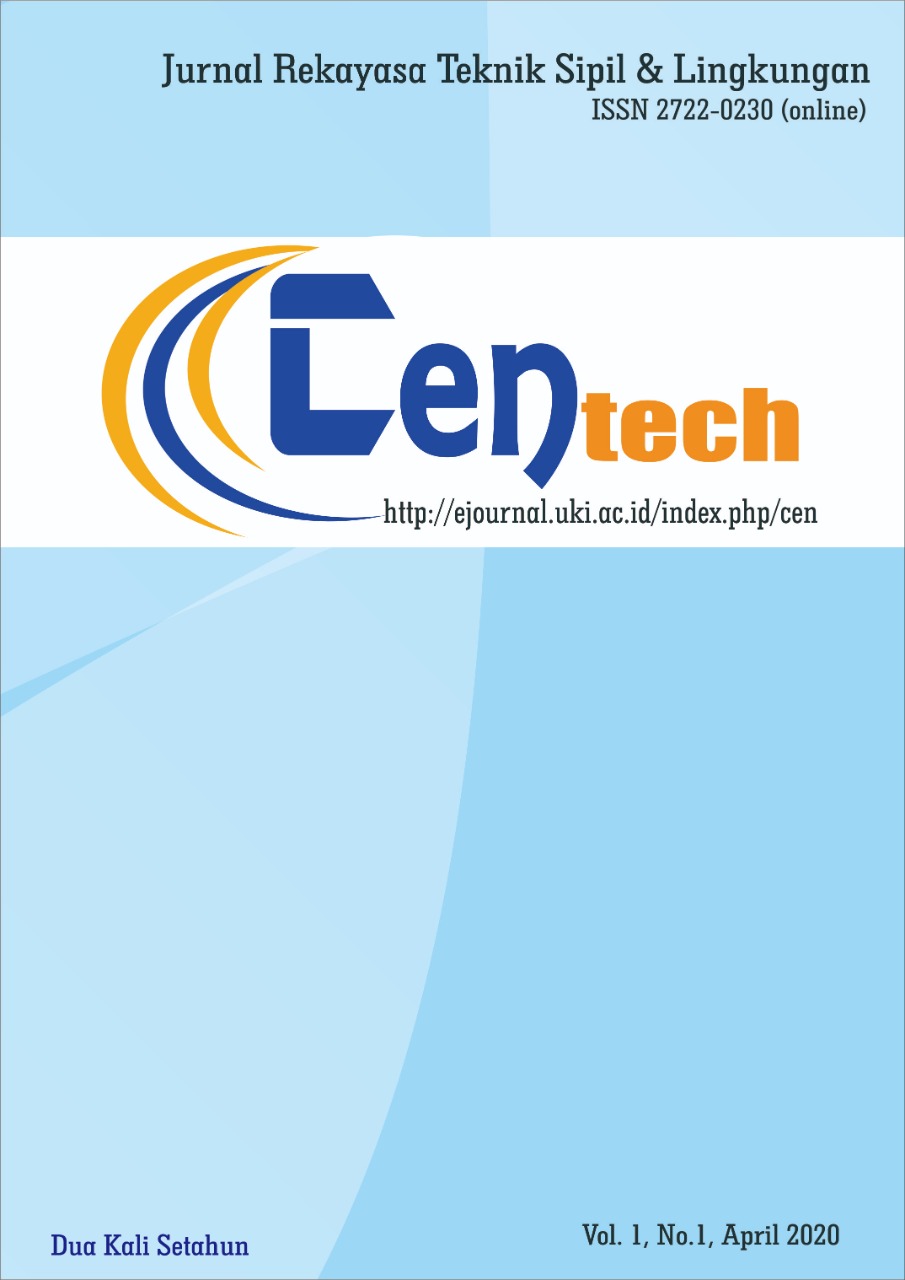 Hak Cipta atas Tulisan Karya Ilmiah
Bersama dengan ini saya sebagai penulis utama menyatakan bahwa paper yang saya kirimkan untuk dipublikasikan melalu Jurnal Rekayasa Teknik Sipil dan Lingkungan CENTECH adalah benar merupakan hasil orisinil Tulisan Karya Ilmiah yang merupakan hasil penelitian/kajian yang saya lakukan dan belum pernah dipublikasikan pada penerbit Jurnal ilmiah lain di Indonesia.
Jika di kemudian hari ternyata ditemukan bukti adanya hal-hal yang tidak sesuai dari pernyataan diatas maka saya bersedia menerima konsekuensi yang diberikan oleh Dewan Redaksi Jurnal Rekayasa Teknik Sipil dan Lingkungan CENTECH serta paper yang telah diterbitkan akan DIBATALKAN dan dinyatakan sebagai hasil karya PLAGIASI.