Potensi Revitalisasi Perum PFN Jakarta Sebagai Industrial Heritage
Felicia Halim

Universitas Pelita Harapan

Julia Dewi

Universitas Pelita Harapan

Alvar Mensana

Universitas Pelita Harapan
Keywords:
industrial heritage, Perum PFN, revitalisasi, adaptive reuse, warisan industri, penggunaan kembali adaptif
Abstract
Abstrak
Kemajuan teknologi khususnya dalam bidang multimedia dan industri kreatif mendorong perubahan cara penggunaan ruang. Beberapa industri terkait yang sulit bertahan akan menurun produktivitasnya hingga mungkin berhenti beroperasi. Fasilitas industri yang menyimpan kesejarahan dan teknologi spesifik pada masanya dapat dikategorikan sebagai industrial heritage. Bekas fasilitas industri yang terabaikan di tengah kawasan perkotaan akan menurunkan kualitas ruang kota baik secara fisik maupun fungsional. Penelitian ini mengambil objek studi salah satu objek industrial heritage terkait industri kreatif perfilman yang sudah tidak beroperasi lagi yaitu Perum PFN yang terletak di Jakarta Timur.
Perum PFN merupakan salah satu pelopor industri perfilman di Indonesia pertama yang didirikan sejak zaman masa penjajahan Belanda. Perum PFN mengalami penurunan produksi dan cenderung tidak aktif serta menempati ruang yang luas dan strategis di tengah kota. Kendati demikian Perum PFN memiliki Sejarah dan peran signifikan untuk tetap diingat sebagai warisan budaya perfilman serta berpeluang untuk berperan dalam memberi kualitas pada ruang kota. Studi ini bertujuan untuk mengidentifikasi elemen arsitektur yang bernilai untuk dipertahankan serta memberikan usulan fungsi baru yang mampu menghidupkan kembali kawasan PFN dengan identitasnya terkait industri film khususnya bagi komunitas film. Proses observasi dan analisis didasarkan pada studi literature, observasi dan untuk menemukan kriteria dan menganalisis potensi yang dimiliki serta identitas apa yang ingin dipertahankan. Hasil studi ini berupa sebuah model yang dapat menjadi usulan untuk revitalisasi Perum PFN sebagai industrial heritage yang berperan memfasilitasi ruang publik untuk komunitas perfilman.
Kata-kata kunci: warisan industri, Perum PFN, revitalisasi, penggunaan kembali adaptif
Abstract
Technology advances, especially in the fields of multimedia and creative industries are driving changes in the way space is used. Some related industries that are difficult to survive will decrease their productivity or even stop operating. Industrial facilities that have history and specific technology in their period can be categorized as industrial heritage. The abandoned industrial facilities in the middle of urban areas will reduce the quality of urban space both physically and functionally. This research takes Perum PFN located in East Jakarta. Perum PFN is a creative film industry belong to government and no longer actively operate. It is one of the pioneers of the film industry in Indonesia, which was first established since the days of the Dutch colonial era. Perum PFN has decreased production and tends to be inactive despite occupying a large and strategic space in the city center.
Nevertheless, Perum PFN has a history and a significant role to be remembered as a cultural heritage of film and has the opportunity to play a role in providing quality to urban space. This study aims to identify architectural elements that are valuable to be maintained and to propose new functions that are able to revive the PFN region with their identities related to the film industry, especially for the film community. The process of observation and analysis is based on the study of literature, observation and interview to find criteria and analyze the potential possessed and what identity to be maintained. The result is a model of new identity of Perum PFN as public community facilities to increase urban area quality.
Keywords: industrial heritage, Perum PFN, revitalization, adaptive reuse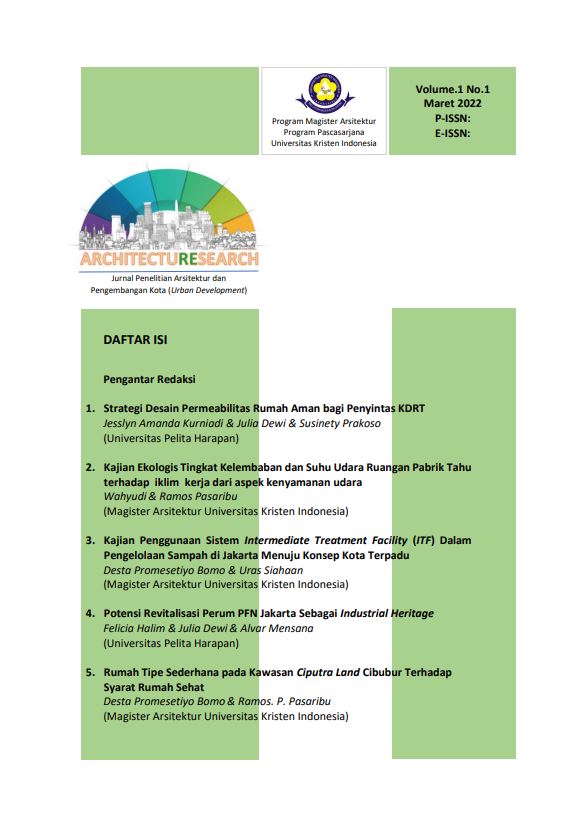 View 202 times Download 202 times PDF