Kajian Penggunaan Sistem Intermediate Treatment Facility (ITF) Dalam Pengelolaan Sampah di Jakarta Menuju Konsep Kota Terpadu
Desta Promesetiyo Bomo

Magister Arsitektur Universitas Kristen Indonesia

Uras Siahaan

Magister Arsitektur Universitas Kristen Indonesia
Keywords:
sampah, pengelolaan sampah, sistem Intermediate Treatment Facility (ITF), waste, waste management, Intermediate Treatment Facility (ITF) system
Abstract
Abstrak
Sampah merupakan permasalahan utama dalam lingkungan hidup yang selalu menjadi sorotan masyarakat hingga saat ini. Tempat pembuangan sampah serta pengelolaan sampah yang tidak berkelanjutan mempunyai konsekuensi terhadap lingkungan, social dan ekonomi. Untuk mengatasi permasalahan sampah, kota harus merancang serta menerapkan praktik pengelolaan sampah yang berkelanjutan, tetapi praktik pengelolaan sampah yang bagaimana agar berkelanjutan? Apakah pengelolaan tersebut cukup efektif? Berdasarkan data yang dikumpulkan, kami mengkaji penggunaan sistem Intermediate Treatment Facility (ITC) dalam pengelolaan sampah di Jakarta untuk menuju konsep kota terpadu. Metode riset yang digunakan adalah inventaris data dari literatur dan kebijakan dikombinasi dengan observasi lapangan untuk mendapatkan permasalahan yang kemudian dievaluasi serta dianalisa dengan tujuan akhir untuk mendapatkan rekomendasi. Adapun penelitian ini diharapkan dapat menjadi evaluasi, pelengkap literatur, acuan untuk penelitian selanjutnya serta menjadikan pemahaman yang lebih baik pada pengelolaan sampah kota. Peranan pemerintah harus sangat dominan pada tahapan pengelolaan sampah ini.
Kata-kata kunci: sampah, pengelolaan sampah, sistem Intermediate Treatment Facility (ITF)
Abstract
Garbage is a major problem in the environment that has always been in the public's spotlight until now. Landfills and unsustainable waste management have environmental, social and economic consequences. To solve the waste problem, cities must design and implement sustainable waste management practices, but how about sustainable waste management practices? Is the management effective enough? Based on the data collected, we examine the use of the Intermediate Treatment Facility (ITC) system in waste management in Jakarta towards the concept of an integrated city. The research method used is an inventory of data from literature and policies combined with field observations to obtain problems which are then evaluated and analyzed with the ultimate goal of obtaining recommendations. This research is expected to be an evaluation, a complement to the literature, a reference for further research and a better understanding of municipal waste management. The role of the government must be very dominant at this stage of waste management. 
Keywords: waste, waste management, Intermediate Treatment Facility (ITF) system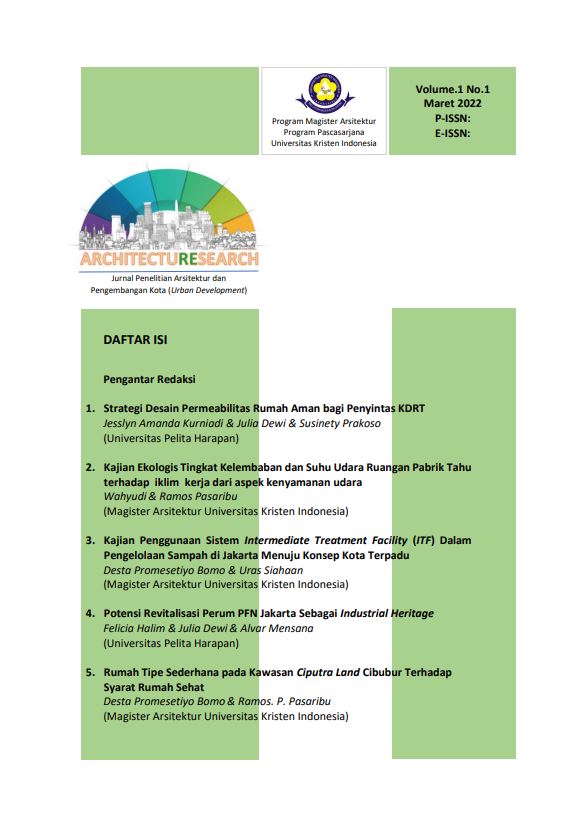 View 479 times Download 479 times PDF