Kajian Ekologis Tingkat Kelembaban dan Suhu Udara Ruangan Pabrik Tahu terhadap iklim kerja dari aspek kenyamanan udara
Wahyudi

Magister Arsitektur Universitas Kristen Indonesia

Ramos Pasaribu

Magister Arsitektur Universitas Kristen Indonesia
Keywords:
arsitektur, suhu, kelembaban, pabrik, ekologi, architecture, temperature, humidity, factory, ecology
Abstract
Abstrak
Keberadaan Usaha pabrik tahu sebagai Usaha home industry di kota sukabumi, dalam rangka untuk mensuply kebutuhan masyarakat sebagai sumber bahanmakanan. Dalam proses pengolahan yang dimulai dari bahan baku kedelai sampai menjadi produk tahu memerlukan proses pengolahan yang meliputi perebusan dan pembakaran dengan menggunakan tungku api. Hal ini menyebabkan peningkatan temperature ruangan dan perubahan kelembaban, Namun, Layout pabrik existing menyebabkan temperature ruangan mengalami kenaikan yang signifikan dari pada standard suhu dan kelembaban ruangan bagi kenyamanan fisik tubuh manusia. Disamping penggunaan tungku api hal ini juga disebabkan oleh aplikasi teknologi bangunan sederhana yang kurang memadai.
Dari pengamatan penulis, layout yang ada sekarang kurang efektif dalam mengatur perubahan suhu dan kelembaban ruangan. Dari data pengukuran yang dilakukan penulis terhadap suhu dan kelembaban didalam ruangan pabrik tahu berkisar antara 33 °C sampai dengan 53 °C dan kelembaban 79 % sampai dengan 92 %. Hal ini menimbulkan ketidak nyamanan dalam adaptasi terhadap standard suhu toleran bagi manusia, khususnya pekerja pabrik tahu yang bekerja dari pagi sampai malam hari.
Metode penelitian yang digunakan adalah kualitatif dan menggunakan data kuantitatif yang berupa pengukuran dengan menggunakan alat termohygrometer. Berdasarkan data suhu yang diperoleh dengan perbedaan terhadap kenyamanan suhu ruangan, penulis melakukan Analisa terhadap layout denah, tampak dan potongan sehingga diperlukan perubahan layout denah. Perubahan layout ini bermamfaat untuk menurunkan tingkat suhu ruangan dan kelembaban karena menurut penulis, layout existing menjadi salah satu penyebab kenaikan suhu yang ekstrim dalam ruangan pabrik tahu. Hasil penelitian yang diperoleh yaitu penyesuaian layout baru dengan perubahan minor pada layout existing dengan memperhatikan prinsip-prinsip ekologi arsitektur pada bangunan dengan memperhatikan aspek desain, fungsi dan teknologi.
Kata-kata kunci: arsitektur, suhu, kelembaban, pabrik, ekologi.
Abstract
The existence of the tofu factory Business as a home industry business in the city of Sukabumi, in order to supply the needs of the community as a source of food. In the processing process, starting from soybean raw materials to become tofu products, it requires a processing process that includes boiling and burning using a fire stove. This causes an increase in room temperature and humidity changes. However, the existing factory layout causes the room temperature to increase significantly than the standard room temperature and humidity for the physical comfort of the human body. In addition to the use of fire stoves, this is also caused by the application of simple building technology that is not adequate.
From the author's observation, the current layout is less effective in regulating changes in room temperature and humidity. From the measurement data made by the author, the temperature and humidity in the room of the tofu factory ranged from 33 °C to 53 °C and humidity 79% to 92%. This causes discomfort in adapting to temperature tolerance standards for humans, especially tofu factory workers who work from morning to night.
The research method used is qualitative and uses quantitative data in the form of measurements using a thermohygrometer. Based on the temperature data obtained with differences in the comfort of the room temperature, the authors conducted an analysis of the floor plan layout, appearance and pieces so that a plan layout change was needed. This layout change is useful for reducing the level of room temperature and humidity because according to the author, the existing layout is one of the causes of the extreme temperature increase in the tofu factory room. The results of the research obtained are adjustments to the new layout with minor changes to the existing layout by taking into account the principles of architectural ecology in the building by paying attention to aspects of design, function and technology.
Keywords: architecture, temperature, humidity, factory, ecology.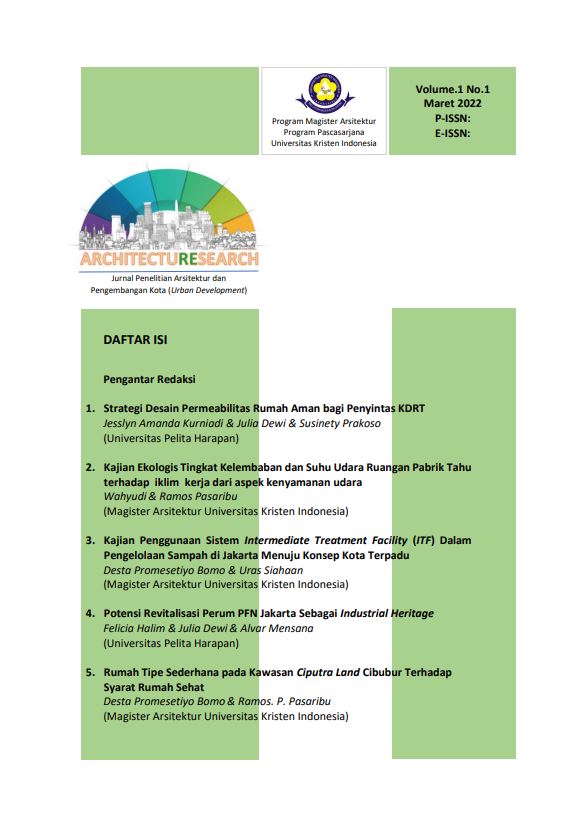 View 755 times Download 755 times PDF